news
---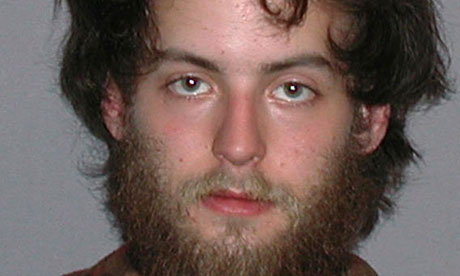 FBI mugshot of Connor Stevens, one of five men arrested earlier this year for plotting to blow up a bridge near Cleveland, Ohio. Photograph: FBI/AP
By Kevin Zeeese
Officers reportedly saw the suspect brandish a gun, while he was riding his bik and struggled to wrest it from him before shots were fired; Occupy says witnesses describe an 'execution'
A group representing Occupy Philadelphia addresses members of the news media in Philadelphia.
November 27, 2012
OAKLAND, Calif.—An Iraq War veteran who was seriously hurt during a police raid on an Occupy Oakland encampment last year is suing Alameda County for abuse during his 18 hours in jail.
Army veteran Kayvan Sabeghi's lawsuit says sheriff's jailers denied him medical care and mocked him for hours before he got treatment.
Eye On Occupy
November 24, 2012
Barricades blocked the entrances to dozens of occupied schools in Rome this week where teens armed with paintbrushes and mops have been protesting over budget cuts by cleaning up the classrooms themselves.
More than 200 high schools and a growing number of universities are being occupied by their students in effort to protest against austerity.
Students protest during a demonstration in Naples on Nov. 19, 2012.
From the beginning of the Occupation of Washington, DC at Freedom Plaza we have put forward the vision of ending the rule of money and empowering a real participatory democracy of the people. This is a complicated task because since 1976 when the U.S. Supreme Court ruled that money is speech a complex matrix of case law, climaxing with the Citizen's United decision has developed that empowers concentrated wealth and allows their dominance of government through the corruption of money. The concept of corporations having the rights of people goes back even further to the 1880's and cases interpreting the 14th Amendment decding that the prohibition forbidding a State to deny any person the equal protection of the laws, applies to corporations. So, we have out work cut out for us to end corporate power and being ruled by concentrated wealth, but Americans are fed up and getting serious about transforming the government. It will not be easy but it is a battle we can, and must, win. A recent conference in California pushed this agenda forward . . .
Watch Out Plutocrats, the Progressive Pro-Democracy Movement Is Savvy and Gearing Up to Take on Citizens United
There's a sophisticated pushback against corporate power in the works.
Ad Campaign Provokes Angry Response of Bank Hypocrisy