news
---

Homeowner Bobby Hull on the front steps of his home, rallies the troops as they prepare to "occupy" a vacant property for a homeless veteran. Photo credit: Michele Spaise
By Harry Colbert, Jr.
InsightNews.com, December 17, 2012
Naked Capitalism
December 17, 2012
Neil Barofsky
met with several Occupy Wall Street working groups Sunday for nearly two hours. Barofsky is relaxed, thoughtful, and direct a Q&A format.
One of his major themes was that the unwillingness to mete out meaningful punishments to miscreant banks means that the authorities are providing incentives to engage in criminal activity.
Our friends in Spain are also experiencing privatization of public education. As of Jan. 1, 2015, their education system will be completely privatized.
In order to bring attention to this, they are holding a funeral for public education tomorrow. Here is the video:
Update: The DC chapter of Jewish Voice for Peace has organized an event this Saturday at Bus Boys and Poets to honor Mira. They are seeking donations so they can fly Mira's body back to her home where her parents and two brothers live. Please see this page for details.
Update:Interview with Mira by Crystal Zevon
UPDATE
Hispanic Business
December 10, 2012
An activist California college teacher filed a federal lawsuit, alleging Oakland police roughed him up during an Occupy protest, court records show.
SLEEPS=Safe Legally Entitled Emergency Places to Sleep
Feinstein Amendment Doubles Down on NDAA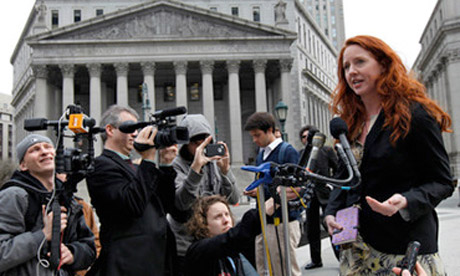 Activist and reporter Tangerine Bolen, a plaintiff in the case against the NDAA, speaking to the media after a New York judge enjoined section 1021 of the law. Photograph via Fromthetrenchesworldreport