news
---
Cool Revolution
January 24, 2013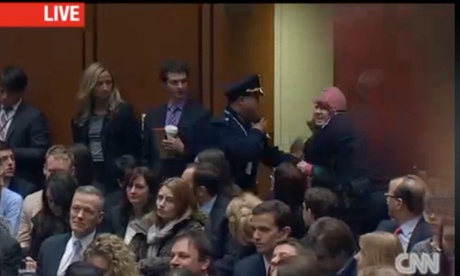 Sign up here to receive this weekly newsletter
Inauguration Day coverage in the corporate media was full of smiles and celebration. Those who watched might think that everything was great. The corporate media failed to report on those who expressed dissent about the direction the country is headed. In fact, MSNBC told its viewers there were no protests. We want to recognize those who showed up because they believe, as Howard Zinn said, "dissent is the highest form of patriotism."
Press Release from Veterans For Peace
216 S. Meramec Avenue St. Louis, MO 63105 (314) 725-6005

VFP Asks Peabody To Stop War on Mother Earth
Photos by Josie Lenwell
Photo: Archivo de Proyectos
Planting of genetically modified corn would be 'coup de grace to food sovereignty for the Mexican people.'
Keystone XL pipeline: Bad for the environment and Canadian workers
By Dave Coles
Jan. 17, 2013
The following speech was delivered by the President of the Communications, Energy and Paperworkers Union of Canada (CEP) Dave Coles to "Confronting the Climate Crisis: Can Labor Help Shape an Effective Strategy?" at City University of New York.
Photos and Video Footage of the Arch of Justice Parade on Martin Luther King Jr. Day
DC IndyMedia
January 21, 2013