---
Letter to 'The Nation' From a Young Radical
Liberalism—including much of what's published in this magazine—seems well-intentioned but inadequate. The solution lies in the re-emergence of American radicalism.
Sign up for the newsletter here.
"We are in the midst of the pre-history of historic transformational change that will end the rule of money."
Breaking News

-Activists win partial victories

:
Guantanamo to shrink, drone rules enacted. Protesters keep pressure on with protests outside and inside of Obama speech. Medea Benjamin interrupts several times forcing Obama to respond to her.
"
The voice of that women is worth paying attention to," Obama said of Medea Benjamin after she was escorted from the room.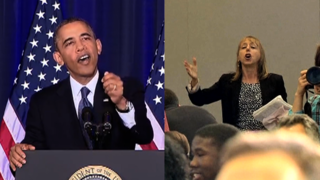 Left to right David Barrows, Joy Fist, Max Obuszewski, Manijeh Sabah, Malachy Kilbride and Jack McHale at US Attorney's Office preparing to file complaint. Photo Ted Majdosz.
Day Two of Sit-In at Governor Quinn's Office to Demand a Moratorium on Fracking brings a Second Arrest