You are hereBlogs / Margaret Flowers's blog
Margaret Flowers's blog
---
By Michael Nagler and Stephanie Van Hook
Originally published in the Metta Center
When a people is faced with a destructive system that has been insidiously putting its tendrils down in many sectors of society, steadily taking over its institutions, it can seem all but impossible to dislodge that evil; but it always seems that a system like that will have some vulnerability, some leverage point that an aroused people can ferret out and be rid of the evil.
Sign up for the newsletter here.
"We are in the midst of the pre-history of historic transformational change that will end the rule of money."
Breaking News

-Activists win partial victories

:
Guantanamo to shrink, drone rules enacted. Protesters keep pressure on with protests outside and inside of Obama speech. Medea Benjamin interrupts several times forcing Obama to respond to her.
"
The voice of that women is worth paying attention to," Obama said of Medea Benjamin after she was escorted from the room.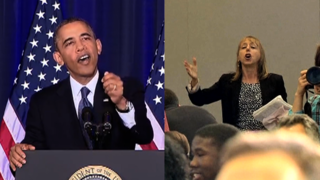 Day Two of Sit-In at Governor Quinn's Office to Demand a Moratorium on Fracking brings a Second Arrest
Originally published in the Huffington Post, May 21, 2013
By Valerie Strauss, Published: May 10, 2013
Originally published in the Washington Post
A New York City elementary school student who couldn't stand the way his school lunch tasted made a secret documentary that is now winning audiences and awards at film festivals.
Every week we are inspired by the many people throughout the country who are doing excellent work to challenge the power structure and put forward a new path for the country. The popular resistance to plutocracy, concentrated wealth and corporatism is decentralized, creative and growing.
One growing series of protests is the "Moral Monday" demonstrations in North Carolina.They do not have 'one demand' but rather are challenging the systemic corruption, undermining of democracy and misdirection of a state government that puts human needs second to corporate profits – which they have dubbed 'Robin Hood in Reverse.' This week 49 of 200 protesters inside the capitol were arrested singing, chanting and
Abercrombie and Fitch get a VERY new look: Filmmaker hands out label's clothes to LA homeless in revenge for CEO 'only wanting thin and beautiful customers'
A federal magistrate judge in New York recently ruled that cell phone location data deserves no protection under the Fourth Amendment and that accordingly, the government can engage in real-time location surveillance without a search warrant. In an opinion straight from the Twilight Zone, magistrate judge Gary Brown ruled two weeks ago that "cell phone users who fail to turn off their cell phones do not exhibit an expectation of privacy."
MARCH FOR A PEOPLE'S BUDGET - STOP PRISON EXPANSION NOW!
MAY 25 – JUNE 3
Visit DecarceratePA.info to register
Year after year, Governor Corbett cuts funds from education, healthcare, environmental protection, and social services. Yet he continues to spend millions on locking people up. Right now, the Corbett administration is spending over $400 million to build two new prisons in Montgomery County, while 23 schools in Philadelphia will be closing next year due to funding shortages.His proposed budget for 2013 includes a $68 million increase for the Department of Corrections, even as his administration claims the prison population is going down.
May 14, 2013
By Immigrant Youth Justice League
Group asked Illinois supporters to call on Senator Durbin (D-IL) to urge the President and the Department of Homeland Security to suspend deportations as a first step to comprehensive and humane immigration reform. The ask comes a day after a group of national organizations published a letter to President Obama to take similar actions.
(Chicago, IL) – A group of seven undocumented immigrants from Illinois sat down blocking the doors to the Broadview Detention Facility, linking arms together using pipes, chains, and locks. They were protesting the record-high deportations under President Obama, and the lack of leadership from Illinois representatives to call for a suspension of these deportations.
Fair Use Notice
This website re-published copyrighted material the use of which has not always been specifically authorized by the copyright owner. We are making such material available in our efforts to advance understanding of environmental, political, human rights, economic, democracy, scientific, and social justice issues, etc. We believe this constitutes a 'fair use' of any such copyrighted material as provided for in section 107 of the US Copyright Law. In accordance with Title 17 U.S.C. Section 107, the material on this site is distributed without profit to those who have expressed a prior interest in receiving the included information for research and educational purposes. For more information go to: http://www.law.cornell.edu/uscode/17/107.shtml. If you wish to use copyrighted material from this message for purposes of your own that go beyond 'fair use', you must obtain permission from the copyright owner.