OWS Marches to End 'Stop and Frisk'
---
Stop and Frisk Protest: Thousands in New York Hold Silent March Against NYPD Tactics (Photos)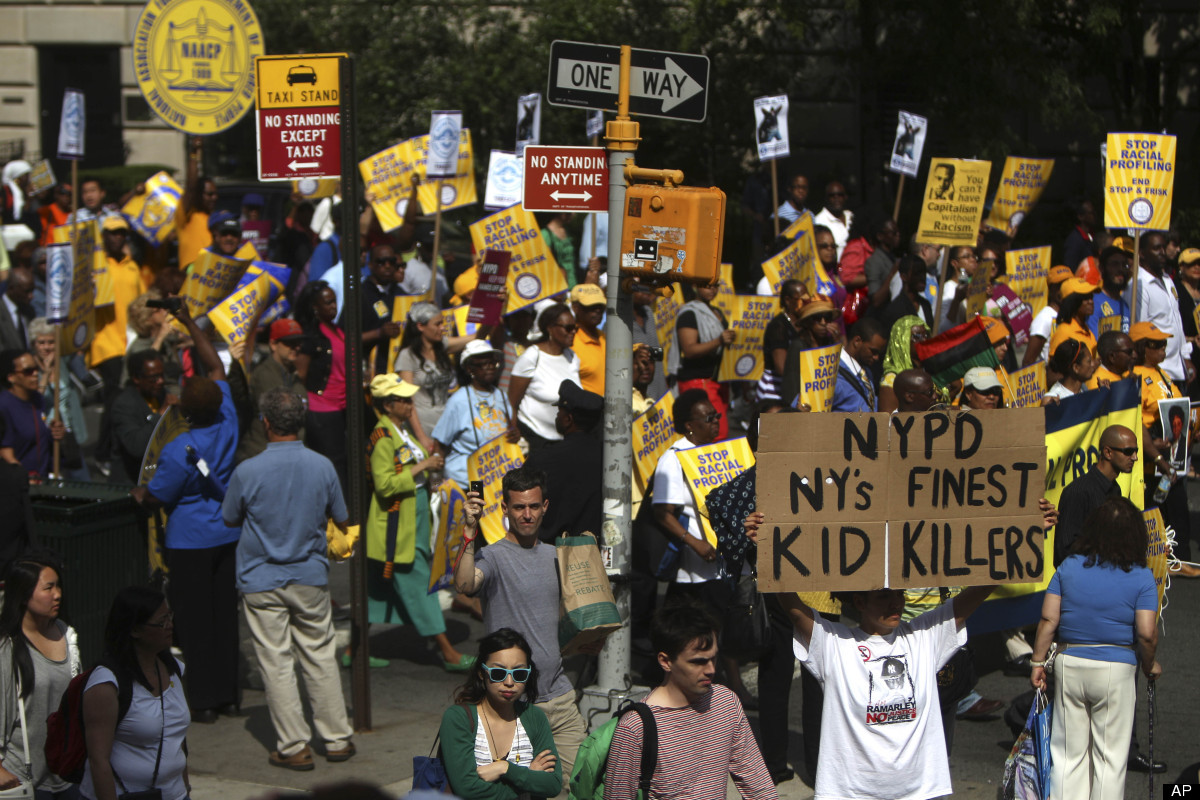 By Verena Dobnik
June 17, 2012
NEW YORK — A silent march by thousands of people in New York City protesting police "stop-and-frisk" tactics on Sunday was punctuated by an explosion of loud voices.
"We've got to fight back, we can't be silent!" a group of activists shouted as they passed the home of Mayor Michael Bloomberg, just off Fifth Avenue.
But the rest of the quiet, slow procession from Harlem down the avenue was interrupted only by the tapping of feet on the pavement and birds chirping in trees along Central Park.
Nearly 300 civil rights groups were represented in the 30-block walk, from elected officials and labor union members to New York residents angry about how they're being treated when they walk the streets.
Critics say the NYPD's practice of stopping, questioning and searching people who police consider suspicious is illegal and humiliating to hundreds of thousands of law-abiding blacks and Hispanics. Last year, the NYPD stopped close to 700,000 people, up from more than 90,000 a decade ago.
Bloomberg's town house on East 79th Street was the proclaimed destination of the Sunday march. The home and sidewalk in front were blocked off by police barricades, and officers would not say whether the mayor was home.
As the march wound down, with a lineup of buses waiting to take protesters away, tensions between police and protesters suddenly escalated into clashes.
A group of them, led by longtime Occupy Wall Street activists, insisted on walking down Fifth below East 77th Street – apparently the cutoff point where police tried to direct them to side streets.
Police officers on scooters lined both sides of the avenue and officers on foot formed a line to keep people on the sidewalk. Several scuffles broke out between screaming protesters and officers who pushed them behind barricades.
Read more and see photos here.
Fair Use Notice
This website re-published copyrighted material the use of which has not always been specifically authorized by the copyright owner. We are making such material available in our efforts to advance understanding of environmental, political, human rights, economic, democracy, scientific, and social justice issues, etc. We believe this constitutes a 'fair use' of any such copyrighted material as provided for in section 107 of the US Copyright Law. In accordance with Title 17 U.S.C. Section 107, the material on this site is distributed without profit to those who have expressed a prior interest in receiving the included information for research and educational purposes. For more information go to: http://www.law.cornell.edu/uscode/17/107.shtml. If you wish to use copyrighted material from this message for purposes of your own that go beyond 'fair use', you must obtain permission from the copyright owner.