You are hereBlogs / Kevin Zeese's blog / Thousands of Students Walk Out of Philadelphia Schools Protesting Budget Cuts
Thousands of Students Walk Out of Philadelphia Schools Protesting Budget Cuts
---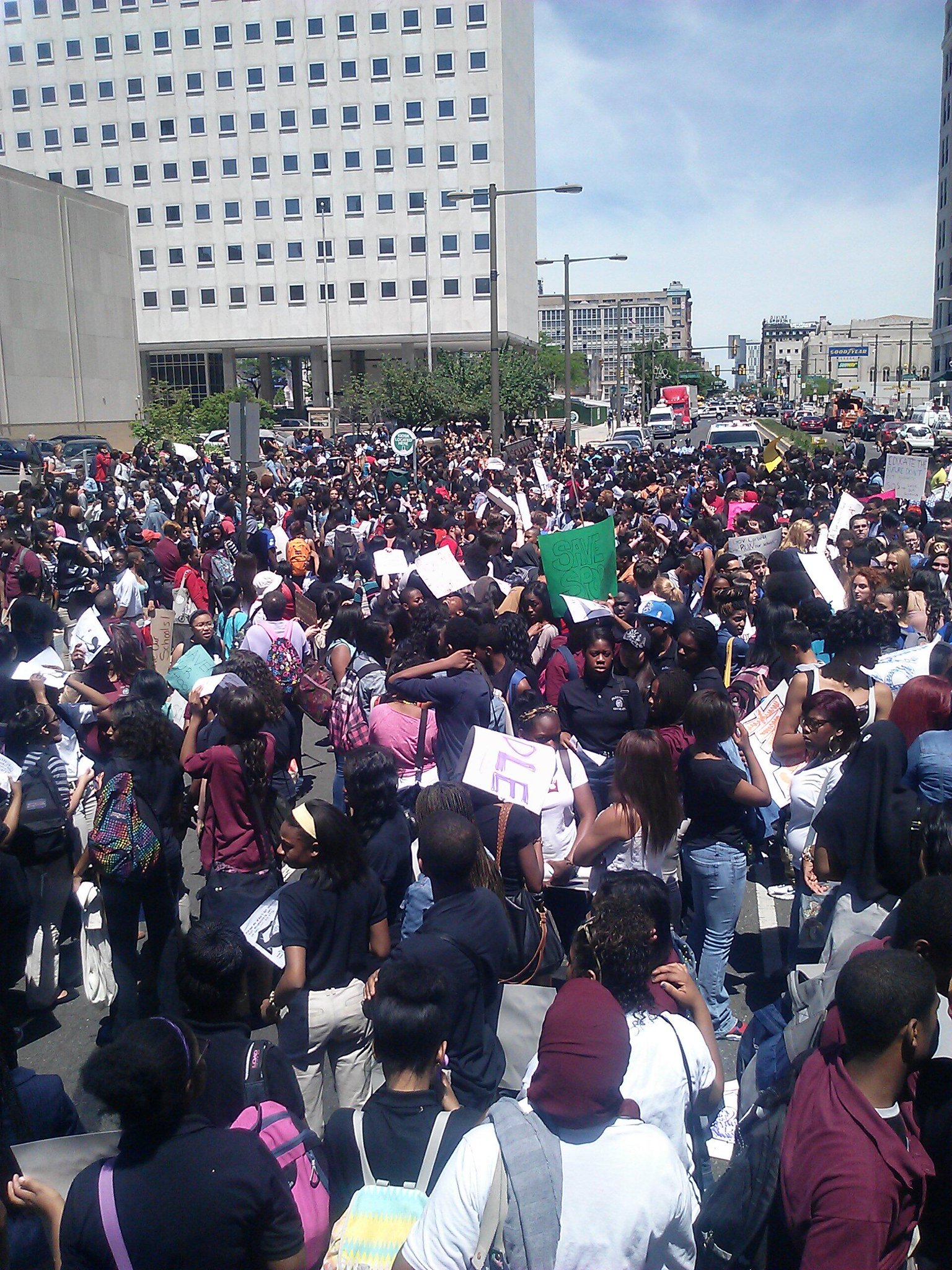 .@OccupyWallStNYC: Epic Philly student walkout! @USUncut: $800M cuts to PA schools & a $1B Corp taxbreak. #walkout215 pic.twitter.com/XXKb0PF3wV

Thousands of students marched on city hall in Philadelphia in one of the largest student walk-outs in history. (This weekend there will be three days of protess in Chicago over education as well.) Below are the demands of Philadelphia students from The Silenced Students Movement.
The Philadelphia City Council,
State Legislators of Pennsylvania,
The Philadelphia School Reform Commission,
​
We believe that students have agency: the power to change an unjust situation. We, the Students of the Philadelphia Public School District, are protesting the School District's proposed budget cuts. The budget cuts will strip public schools of funding they need to provide even a basic education to the city's youth, and perpetuates the inequalities between wealthier and more impoverished districts. We care about the education that we receive, and implore you to do the same. We are willing to break the stereotypes and expectations of urban youth, and are taking this opportunity to tell the world that urban school districts deserve funding, and it is your responsibility under the Commonwealth Charter to provide us with more than a "bare bones education".

We demand the following:

CITY
​
City Council Commitment
A commitment from the members of the City Council to fully fund- our public schools.
​
Real Student Voice & Community Involvement
Real student and community voices in the decision making process.
​
Ensure High Quality Learning Conditions means:
- Providing counselors, nurses, and librarians at each school, in order to offer the supplementary structure necessary for the success of students;
- Ensuring that every school has after school programs, art and music, sports, etc;
- Reduced student to teacher ratio, to avoid overcrowding, maintaining desegregation support, as well as providing AP classes and gifted support.
​
Safe & Positive School Climate
Schools should generate an environment that makes students feel safe and respected, encouraging their wholesome personal growth, not just their test scores. The emphasis must be placed on educating, not criminalizing students.
​
Financial Transparency
Publicly available financial records in all matters concerning school budgets—we want to know how the money is being spent.
​
STATE
​
Equitable Funding Formula
When determining individual school budgets, taking into consideration proper variables, including the number of students in each district, community poverty levels, local taxes, and the number of special needs and English Language Learners in each district.
​
If these demands are not met by June 14th further actions will be taken by those supporting this movement.

Signed by,
​
The Students of Philadelphia

Endorsed by,
​
The Philadelphia Student Union
Philadelphia Federation of Teachers
Action United
Juntos
Philadelphia United for a Responsible Economy
Teacher Action Group
Fight For Philly
UNITE HERE Locals 634 and 274

Students walk out on May 9. (Credit: @215studentunion)
What You Should Know About The Philly Student Walkout
By James Cersonsky and StudentNation
The Nation, May 17, 2013
Running a massive deficit of hundreds of millions of dollars, Philadelphia's school system is planning to eliminate all sports, extracurricular activities, counselors and libraries—beyond which, for schools eviscerated by austerity politics, there's not much left to lose. At noon today, May 17, thousands of students are expected to walk out of class and flood downtown.
"It's time that the City Council and Governor Corbett started listening to students," says Sharron Snyder, a junior at Benjamin Franklin High School and an organizer with the Philadelphia Student Union. "If they spent even one day in my school, they would know that already we don't have the right resources to succeed."
Walkout organizers state, "We are willing to break the stereotypes and expectations of urban youth, and are taking this opportunity to tell the world that urban school districts deserve funding, and it is your responsibility under the Commonwealth Charter to provide us with more than a 'bare bones education.'"
Here are five backstories to #walkout215:
1. The pregame. On May 7 and 9, students staged two walkouts, the first with a few hundred students, the second with upwards of 1,000. The May 7 action was launched by an unaffiliated group, the Silenced Students Movement, over Facebook and Twitter. By Thursday, members of the Philadelphia Student Union (PSU) and Youth United for Change (YUC), the city's largest student organizing groups, were in on the call. This time, students have the support of PSU, YUC and the broader Philadelphia Coalition Advocating for Public Schools (PCAPS). The coalition includes the Philadelphia Federation of Teachers, both student groups and an array of community groups and other unions.
2. The school closing shell game. The citywide uprising goes hand-in-hand with the city's unprecedented, Boston Consulting Group-inspired maneuver to shutter public schools. In December, the city announced that 41 schools would be closed or relocated—a total that has since dropped to 23. Over the spring, students, teachers and allies have disrupted SRC meetings, blocked traffic, marched endlessly and released their own survey-based plans to revamp the school system. The district hasn't undertaken the school-by-school community needs assessment that PCAPS is demanding before any schools are closed. Putting aside the dubious logic of "facility underutilization," any labor savings from closed schools portend disaster for students and workers alike. And the students who are affected are more likely to be black or Latino. A handful of PCAPS groups, including PSU and YUC, are part of the Journey for Justice, a growing national movement led by people of color. The coalition's demands pivot on the racialized thrust of neoliberal education policy; in some cities, groups are pushing federal civil rights complaints against school closings and related overhauls.
3. Receivership. City students and state leaders don't exactly agree on issues of school funding. In response to protests against Governor Tom Corbett's planned commencement address at Millersville University, state Department of Education spokesman Tim Eller said, "Unfortunately, those people believe the only support for education is shown by how many zeroes are on a check." After a Corbett-proposed $1.2 billion in cuts to public education funding in 2011-2012, the state cut $860 million, or $410 per student. That year, Philadelphia lost 1,600 teachers and 2,100 other school staff. For their part, city spokespeople decry state underfunding—while, last year, bankrolling charter school expansion. Since 2001, the district has been run by the state-directed School Reform Commission (SRC). That year, hundreds of students walked out to protest the state takeover—enacted by the state legislature partly under the pretense of district budget woes.
4. School safety. When schools are closed, students risk crossing myriad social boundaries—including gang lines—to survive in their new environments. Through the Campaign for Nonviolent Schools, Philadelphia students are pushing for student voice in school safety policy. After a series of actions last summer, the campaign won a new, less punitive discipline matrix and protections in the school's dress code for gender-nonconforming students. More recently, students successfully advocated for pilotrestorative justice programs in ten schools. This month's mass actions aren't some hormonal release, but flashpoints in years of organizing. The Campaign for Nonviolent Schools is a prime example.
5. History. On November 17, 1967, more than 3,500 students from at least twelve high schools walked out and marched to the Board of Education. In conjunction with the Black People's Unity Movement, students demanded black representation on the city's school board, black history taught by black teachers and the removal of police from schools. Despite clashes with 400 cops—and fifty-seven arrests—the walkouts drove the administration to open dialogue with students and allies over curricular reforms and community voice in school policy.
Today's protests, which land on the 59th anniversary of the Brown decision, recast the legacy of civil rights struggle.
Fair Use Notice
This website re-published copyrighted material the use of which has not always been specifically authorized by the copyright owner. We are making such material available in our efforts to advance understanding of environmental, political, human rights, economic, democracy, scientific, and social justice issues, etc. We believe this constitutes a 'fair use' of any such copyrighted material as provided for in section 107 of the US Copyright Law. In accordance with Title 17 U.S.C. Section 107, the material on this site is distributed without profit to those who have expressed a prior interest in receiving the included information for research and educational purposes. For more information go to: http://www.law.cornell.edu/uscode/17/107.shtml. If you wish to use copyrighted material from this message for purposes of your own that go beyond 'fair use', you must obtain permission from the copyright owner.