You are hereBlogs / Kevin Zeese's blog / Third Day of Homeonwer Protests in DC Focus on Corporate Law Firm, Covington & Burling
Third Day of Homeonwer Protests in DC Focus on Corporate Law Firm, Covington & Burling
---
Protesters March On Firm Where Eric Holder Was Partner, Occupy Lobby
Activists put up tents as they participate in civil disobedience during a protest outside the U.S. Justice Department May 20, 2013. Photo by Alex Wong/Getty Images.
DCist
May 22, 2013
For a third day, homeowners and supporters protesting foreclosures will hold a public demonstration in D.C. And once again, Attorney General Eric Holder, who admitted early this year some banks are too big to prosecute, will be the target.
Protesters gathered at Freedom Plaza at 11 a.m. Wednesday to march on Covington & Burling LLP, a law firm where Holder was once a partner. The firm, located at 1201 Pennsylvania Avenue NW, represents or has represented major banks including Bank of America and JP Morgan Chase.
A spokesman for the protesters said they plan to take over the building's lobby. A live stream of the event can be seen here.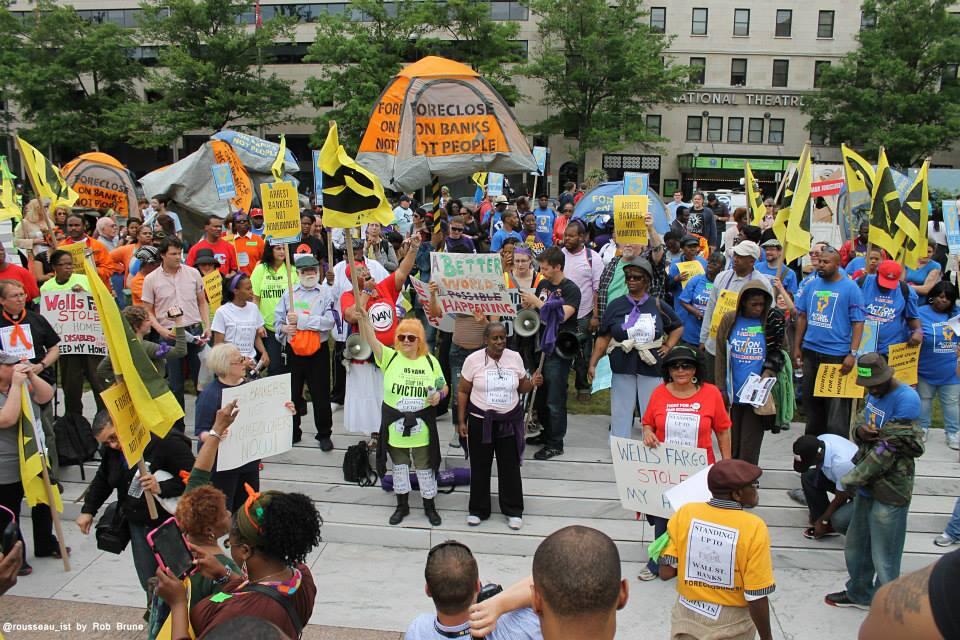 Twenty-seven protesters have been arrested this week, including activist Carmen Pittman who was stunned by police with a taser Tuesday outside the Department of Justice. On Monday, protesters blocked traffic on Constitution Avenue in front of the DOJ building and were arrested for doing so. The protests are organized in part by Occupy Our Homes and Home Defenders League.
The Department of Justice has yet to acknowledge the protests, according to the Huffington Post.
Update: Seven protesters were arrested during today's demonstration, according to a press release.
Fair Use Notice
This website re-published copyrighted material the use of which has not always been specifically authorized by the copyright owner. We are making such material available in our efforts to advance understanding of environmental, political, human rights, economic, democracy, scientific, and social justice issues, etc. We believe this constitutes a 'fair use' of any such copyrighted material as provided for in section 107 of the US Copyright Law. In accordance with Title 17 U.S.C. Section 107, the material on this site is distributed without profit to those who have expressed a prior interest in receiving the included information for research and educational purposes. For more information go to: http://www.law.cornell.edu/uscode/17/107.shtml. If you wish to use copyrighted material from this message for purposes of your own that go beyond 'fair use', you must obtain permission from the copyright owner.