Financial District Chaos; More than 180 Arrests at S17
---
Below are several articles about S17 and photos of the protests in New York City. There were more than 180 arrests, over 7,500 have been arrested in Occupy protests over the last year.

Journalists Among those Arrested During Occupy Wall Street Anniversary Protests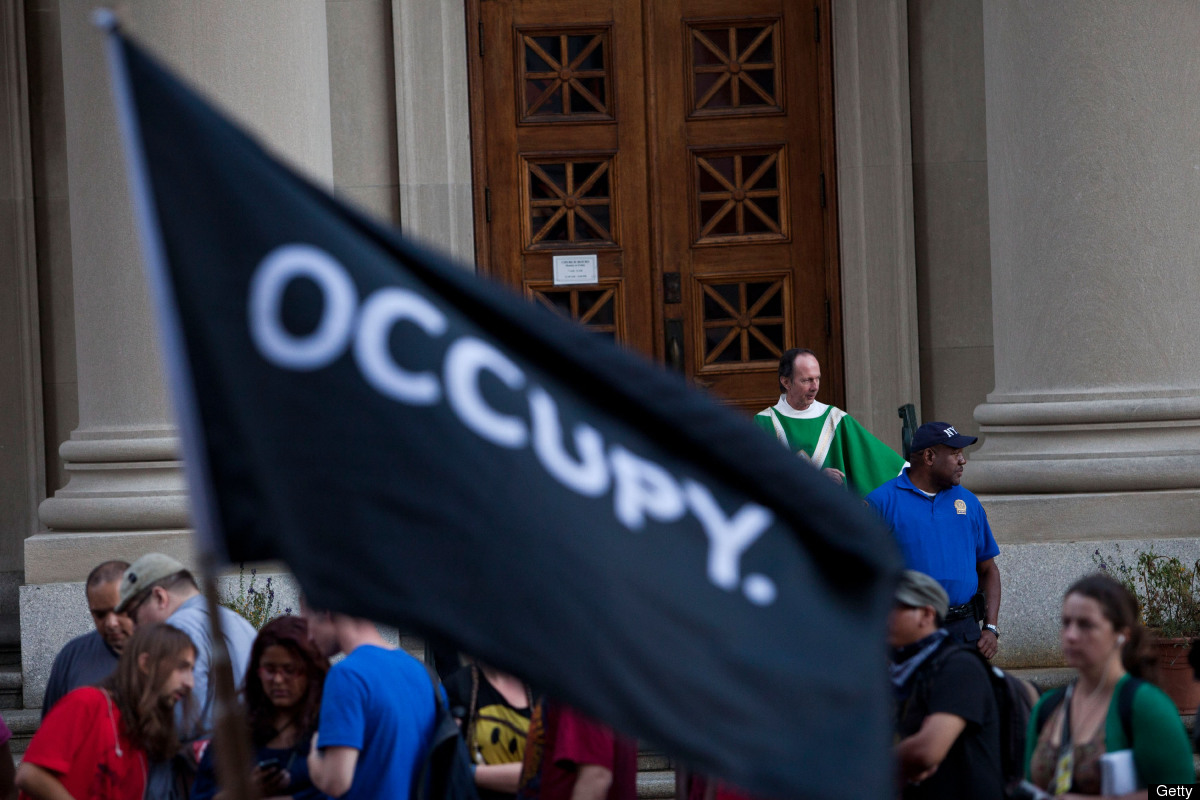 Journalists were among the scores arrested in New York City as the Occupy Wall Street movement marked its one-year anniversary.
Tarak Kauff of the Veterans Peace Team is arrested. Photo Ellen Davidson
The movement has been holding protests for the past few days to commemorate the date, and police have been very active in responding. More than 100 people were arrested on Monday alone.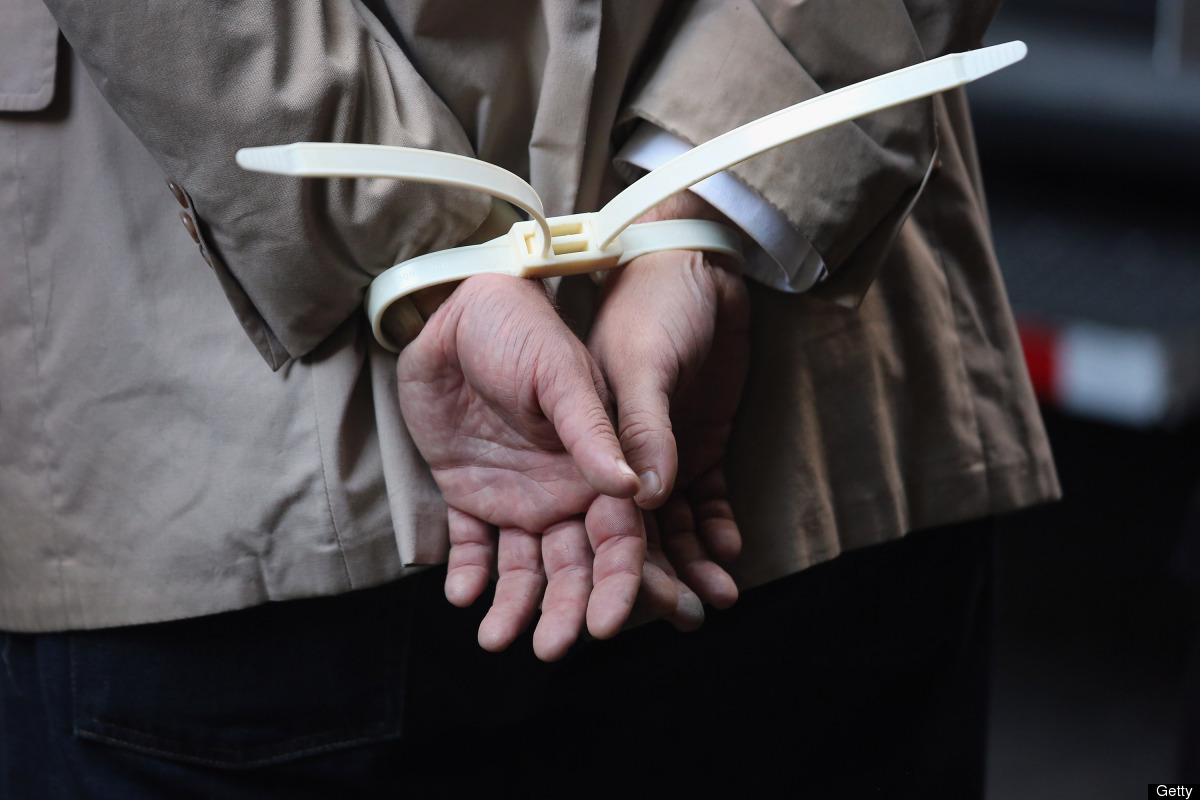 As they have been since the protests began, journalists found themselves swept up, though on a smaller scale than at the movement's 2011 height.
Josh Stearns, campaign director for media reform group Free Press, compiled news about the arrests on Storify. Photojournalists appeared to be the most frequently targeted. Two photographers and one journalist were arrested on Saturday night, and several more during Monday's protests. At least one journalist from the local WPIX station was arrested on Monday. In one instance, police arrested a photographer, Julia Reinhart, while she was wearing identification that listed her as a member of the National Press Photographers Association. Another journalist and illustrator, Molly Crabapple, tweeted about her arrest on Monday. "Can't wait to draw this," she wrote.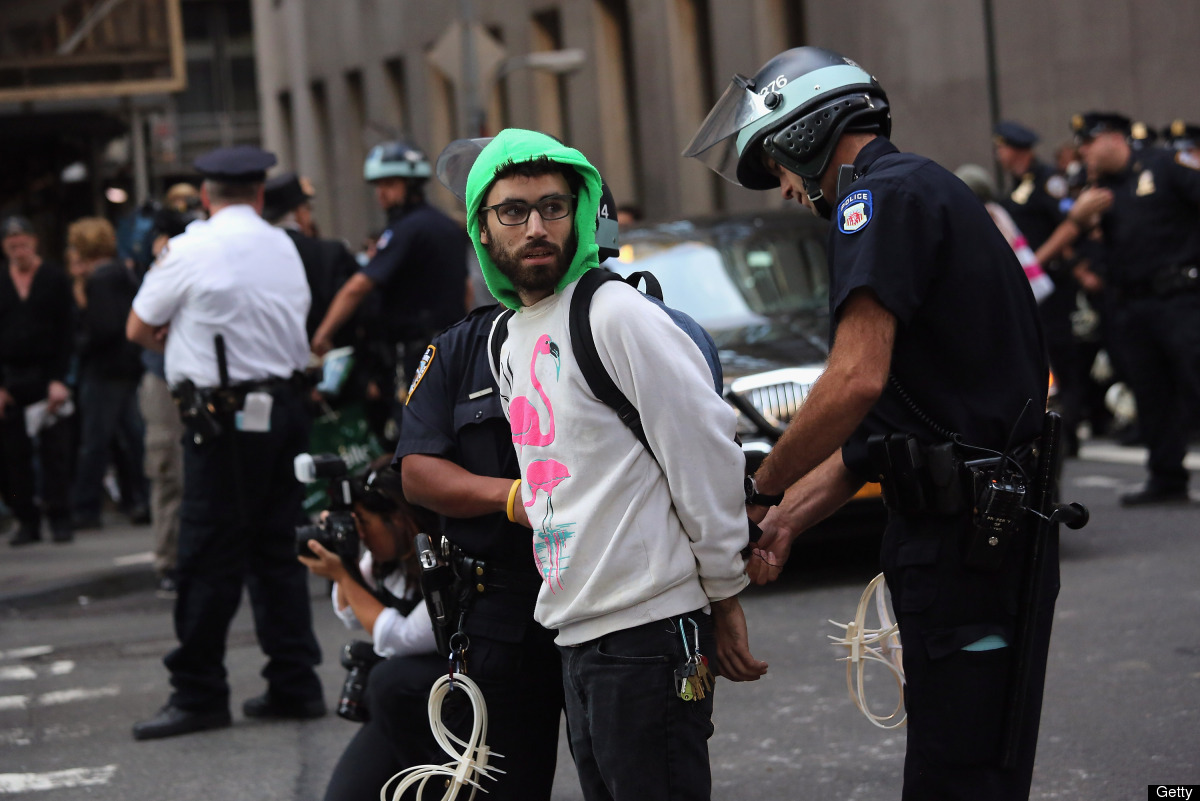 John Bolger, a student journalist at Hunter College, was also arrested.
The NPPA issued a statement saying that it was "deeply concerned and troubled by the aggressive and indiscriminate manner in which officers and command staff are allegedly treating those exercising their First Amendment rights."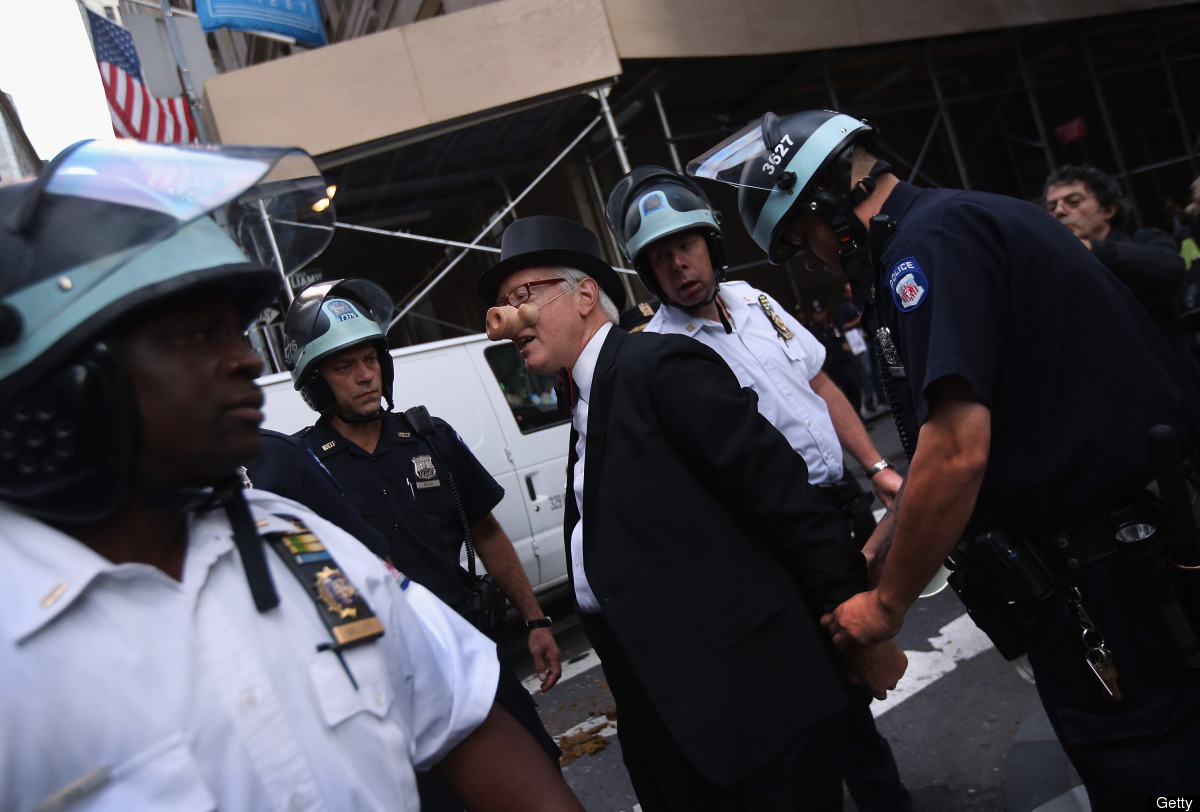 More than 180 Occupy Wall Street arrests in NYC
By MEGHAN BARR
Associated Press, September 17, 2012
NEW YORK — Occupy Wall Street protesters celebrated the movement's anniversary on Monday by clogging intersections in the city's financial district, marching to the beat of drums that were a familiar refrain last year.
Protesters roamed around the lower Manhattan financial district all morning in groups of a few dozen each, from one intersection to another and back again, chanting loudly about the ills of Wall Street. In total, there were a few hundred protesters scattered throughout the city. More than 180 of them were arrested by early Monday evening, mostly on disorderly conduct charges.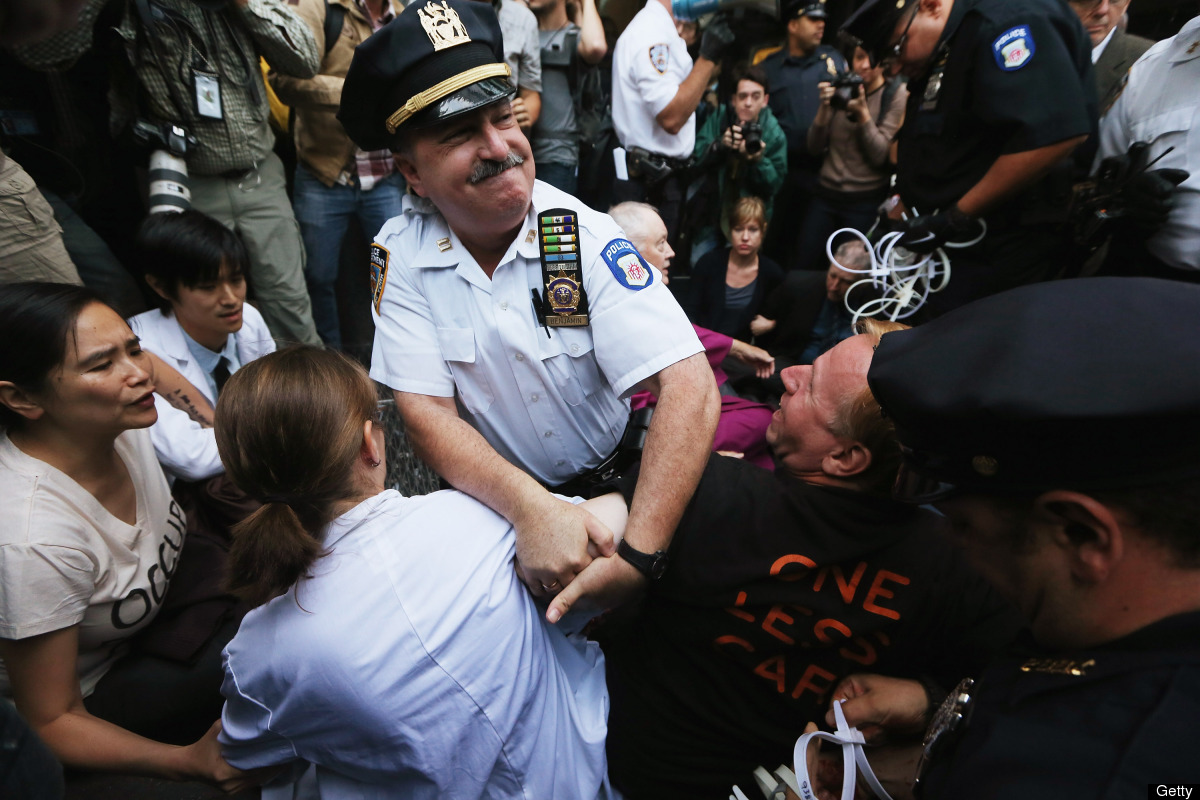 The day's events lacked the heft of Occupy protests last year, when protesters gathered by the thousands. But Occupiers were upbeat as they spread out in their old stomping grounds, giddy at the prospect of being together again. They brushed off any suggestions that the movement had petered out.
"This is a movement. It's only been a year," said protester Justin Stone Diaz, of Brooklyn. "It's going to take many years for it to develop and figure out exactly who we are."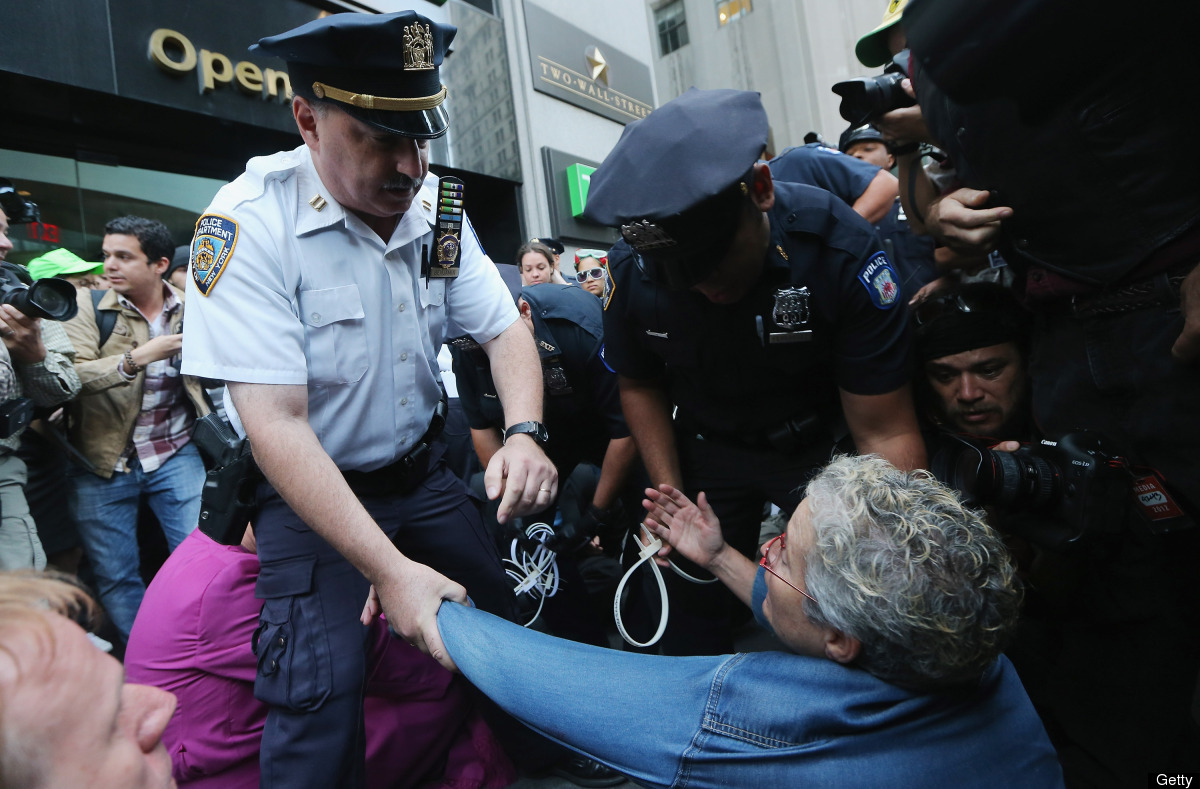 But the movement is now a shadow of its mighty infancy, when a group of young people harnessed the power of a disillusioned nation and took to the streets chanting about corporate greed and inequality.
A familiar Statue of Liberty puppet was back, bobbing in the crowd above protesters' heads. Protesters in wheelchairs blocked a road and chanted "All day, all week, occupy Wall Street!" before they were steered off the road by police.
Zuccotti Park, the former home of the encampment, was encircled by metal police barricades lined with police officers standing watch.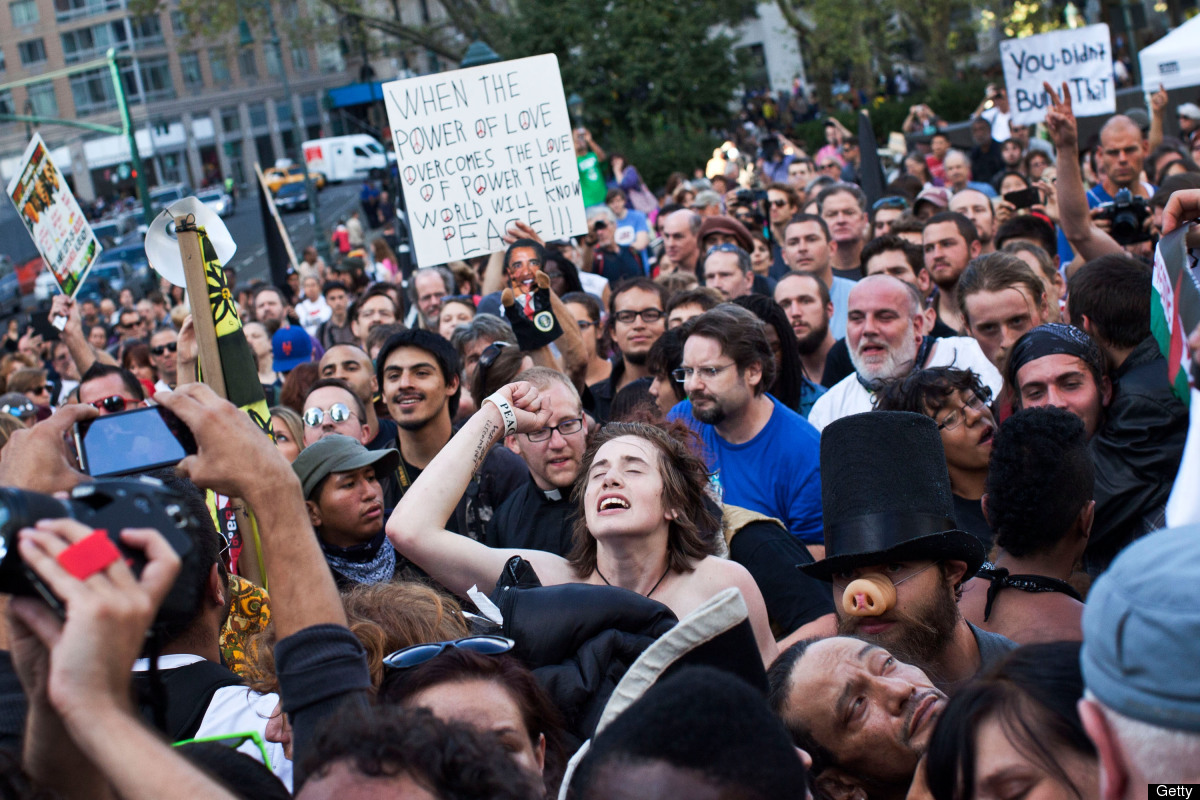 Hamza Sinanaj, a 30-year-old airplane mechanic who works in upstate New York as a security guard, said he was among the first Occupy protesters last September.
"I felt that protest was long overdue, and I'm back today," he said, holding up a sign that read, "America Rise Up."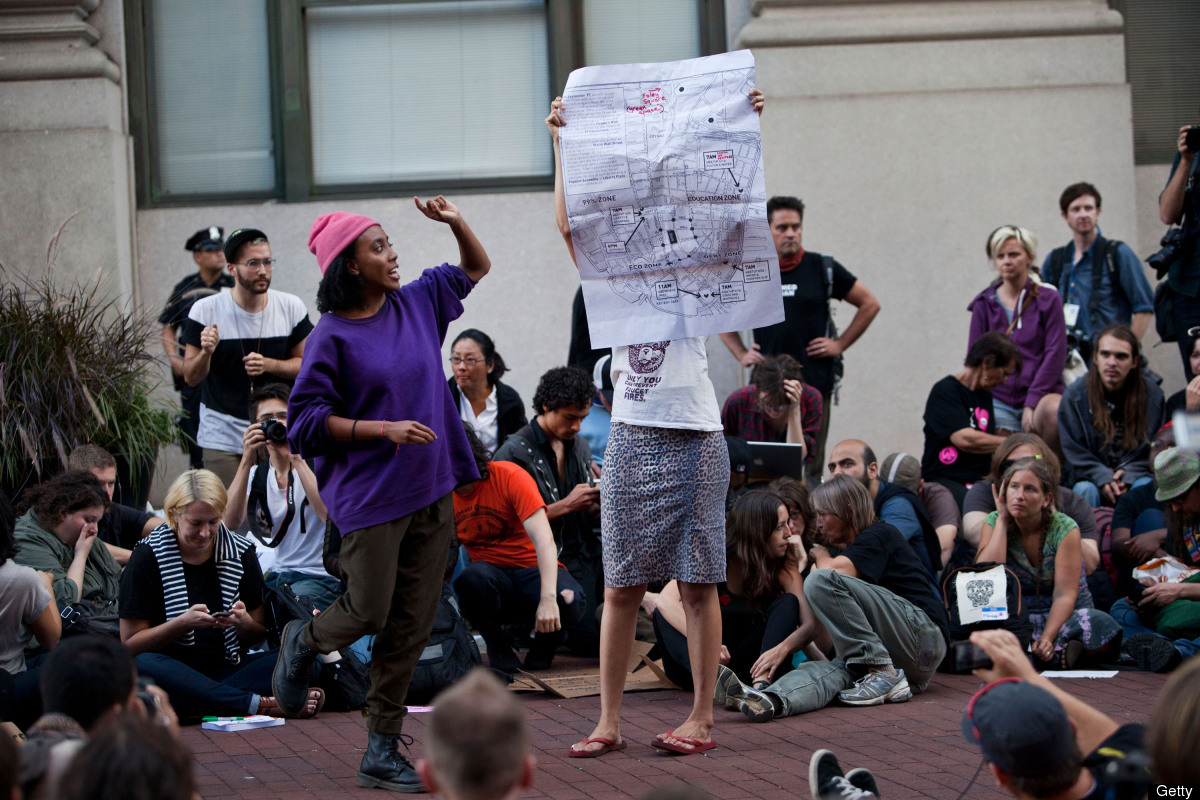 He was staying at his sister's home in the Bronx but wasn't sure he'd be there Monday night because he was "ready to be arrested, to sit on the street and be arrested."
Events were planned in more than 30 cities worldwide.
In San Francisco, local Occupy groups planned to occupy 10 banks across the city and then hold an evening rally honoring foreclosure fighters, people who've been helping residents stave off foreclosures by squatting or holding sit-ins, outside the Bank of America building in the Financial District, the site of previous protests. They then planned to march.
Last year, hundreds of protesters camped out for weeks at Justin Herman Plaza across from the city's Ferry Building, a magnet for tourists and in the heart of the Financial District, where nearby businesses were affected.
In Oakland, Calif., a metal fence surrounds the City Hall lawn that was the hub of several violent clashes between demonstrators and police during fall Occupy-inspired protests that attracted international attention.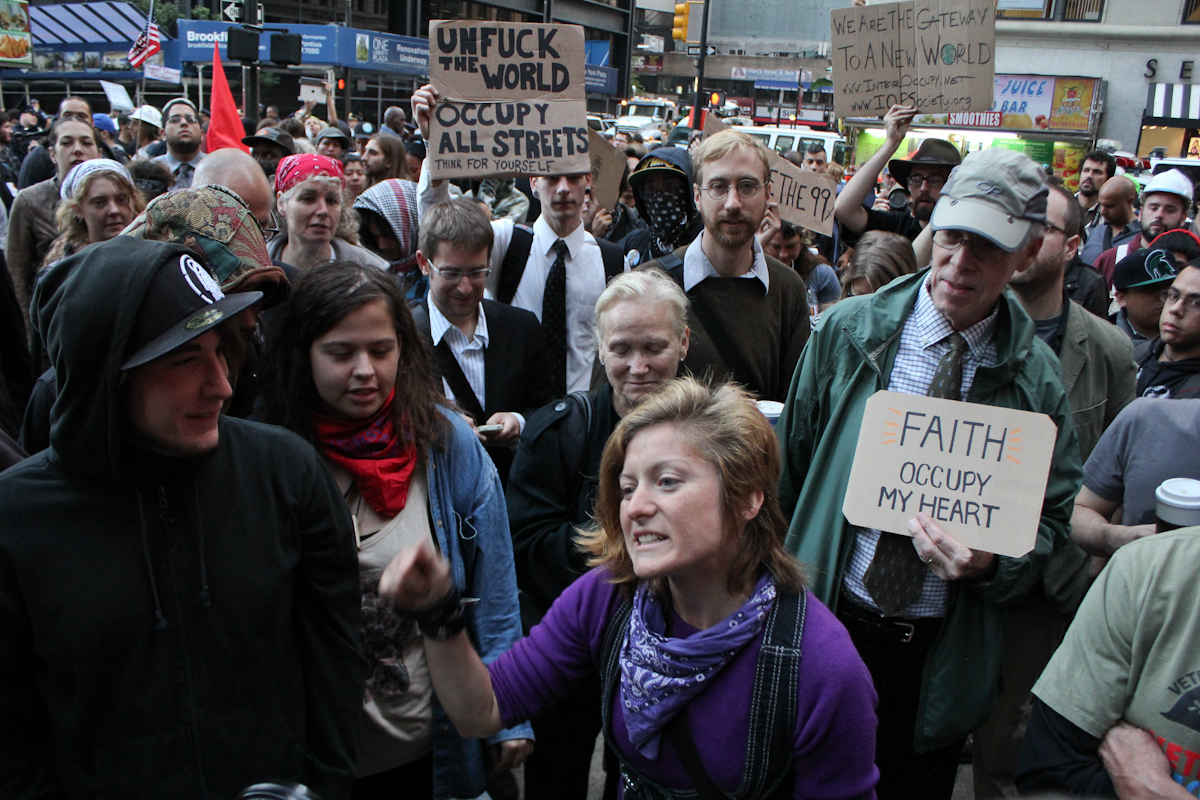 Banks including Citigroup and Wells Fargo have said they're committed to having open dialogue and working with their customers during difficult economic times.
Associated Press writer Verena Dobnik contributed to this report.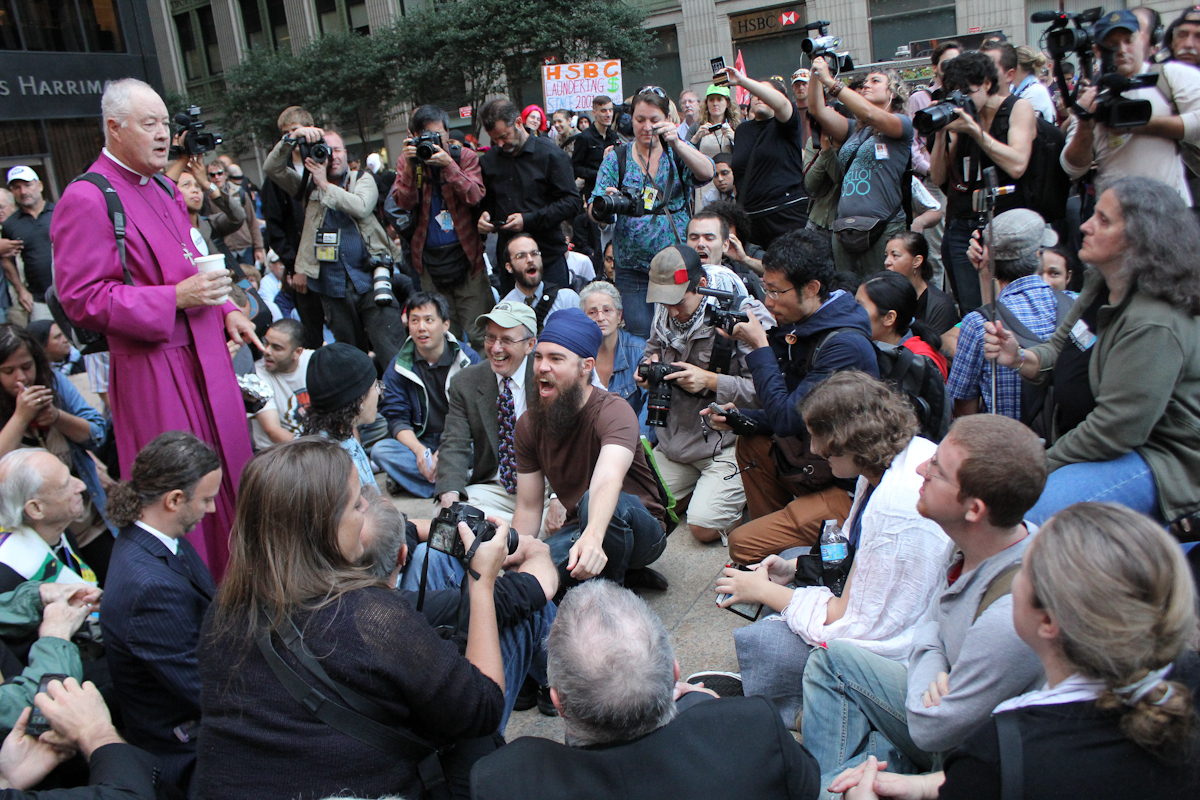 Occupy movement a year old
By David Ariosto
Police encircled Lower Manhattan's Zuccotti Park on Sunday as protesters geared up to observe the one-year anniversary of Occupy Wall Street.
A loosely organized group of demonstrators first gathered in New York one year ago Monday as part of a movement that thrust "the 99 percent" into the political lexicon. The protests spread to dozens of cities across the United States.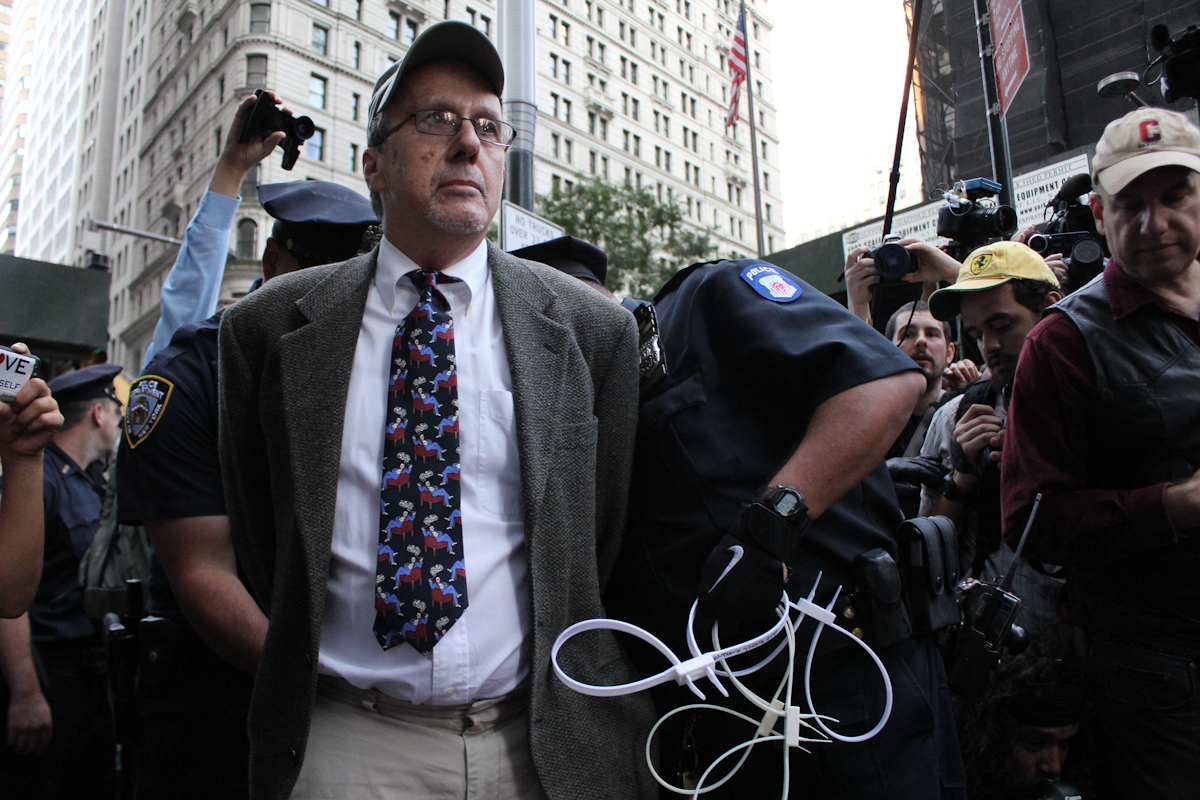 By 7 p.m. Sunday, New York police said there had been no arrests during the day -- but they put the number of arrests Saturday at about 40. Protesters faced various charges including disorderly conduct, resisting arrests and felony assault.
Video of the scene showed people near the park being detained, while others banged on drums and shouted. Zuccotti Park is located in the city's financial district.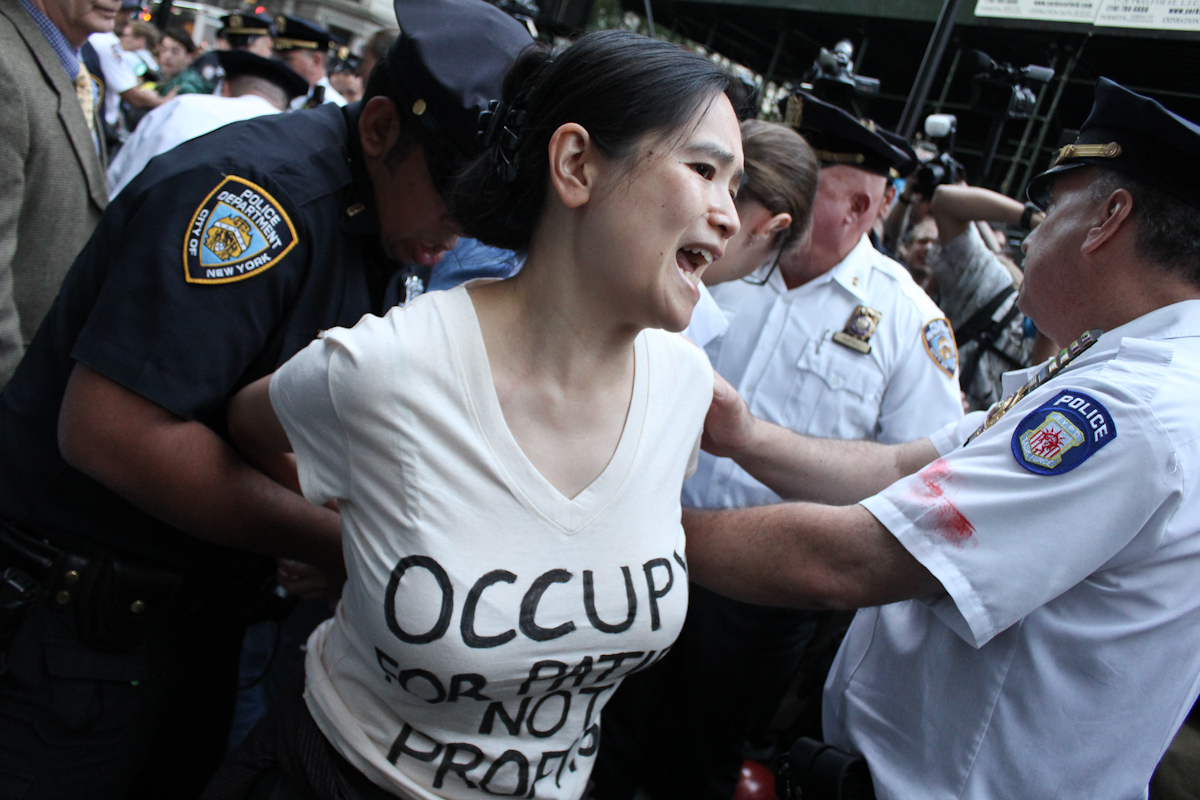 The group's messages have ranged from protecting the environment to protests over education costs. There's been an overriding theme of condemning income inequality and social injustice.
It put out a statement Sunday, saying "the day's events are about flexing people power in the streets and utilizing public spaces."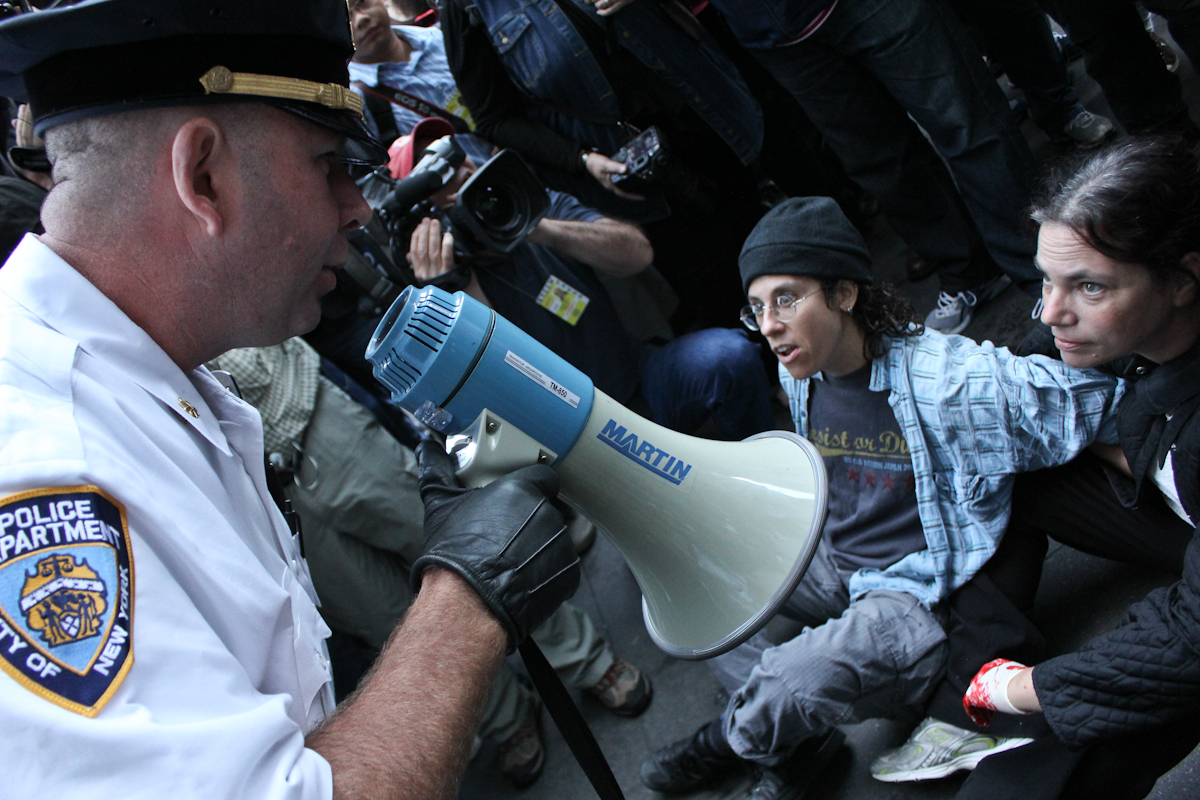 "The Occupy movement continues to utilize culturally creative tactics to build the movement for social and economic justice," the group said.
The movement also has been criticized for its lack of focus, and over reliance on a physical space.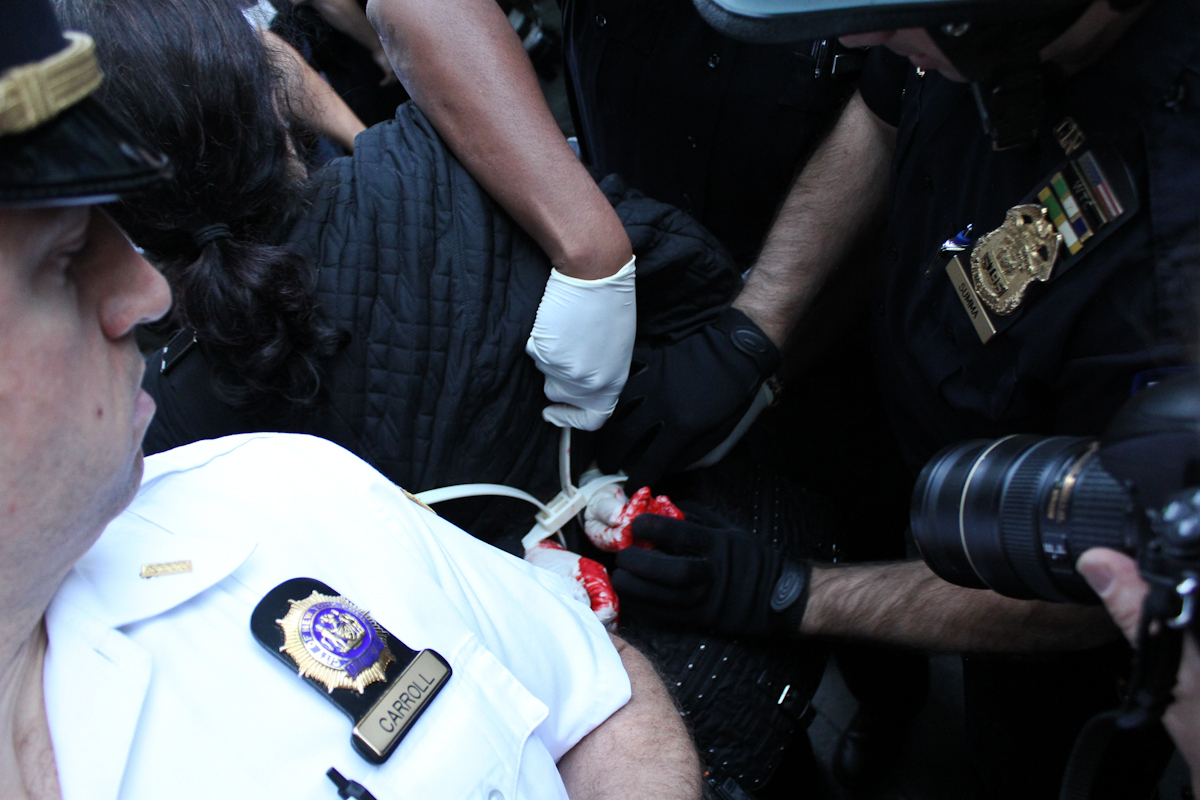 "The camp is one of the central points for the first couple of months and that's just not a sustainable form of protest," said Fordham University professor Heather Gautney, referring to Zuccotti Park.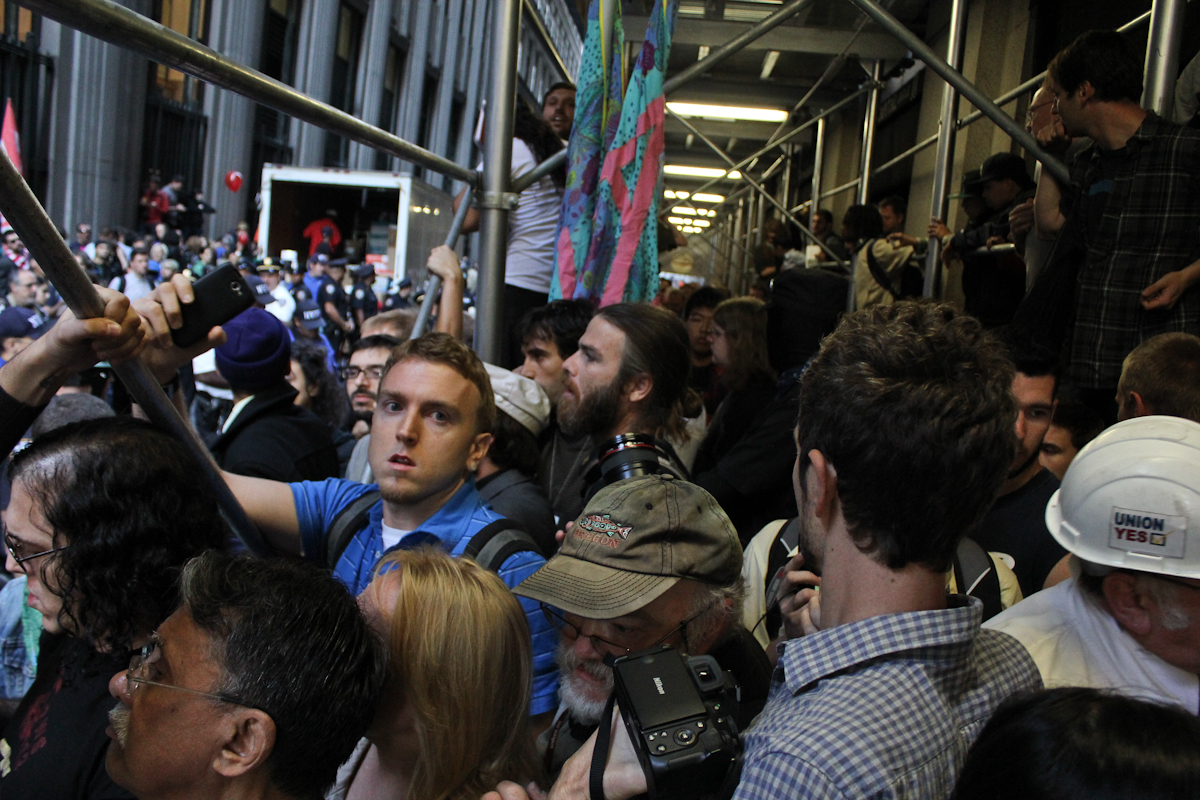 "So I think there was a transition into more localized acts of protest but they never really had the momentum that the camps had."
Occupy had "a problem of transitioning into a new strategy," she said.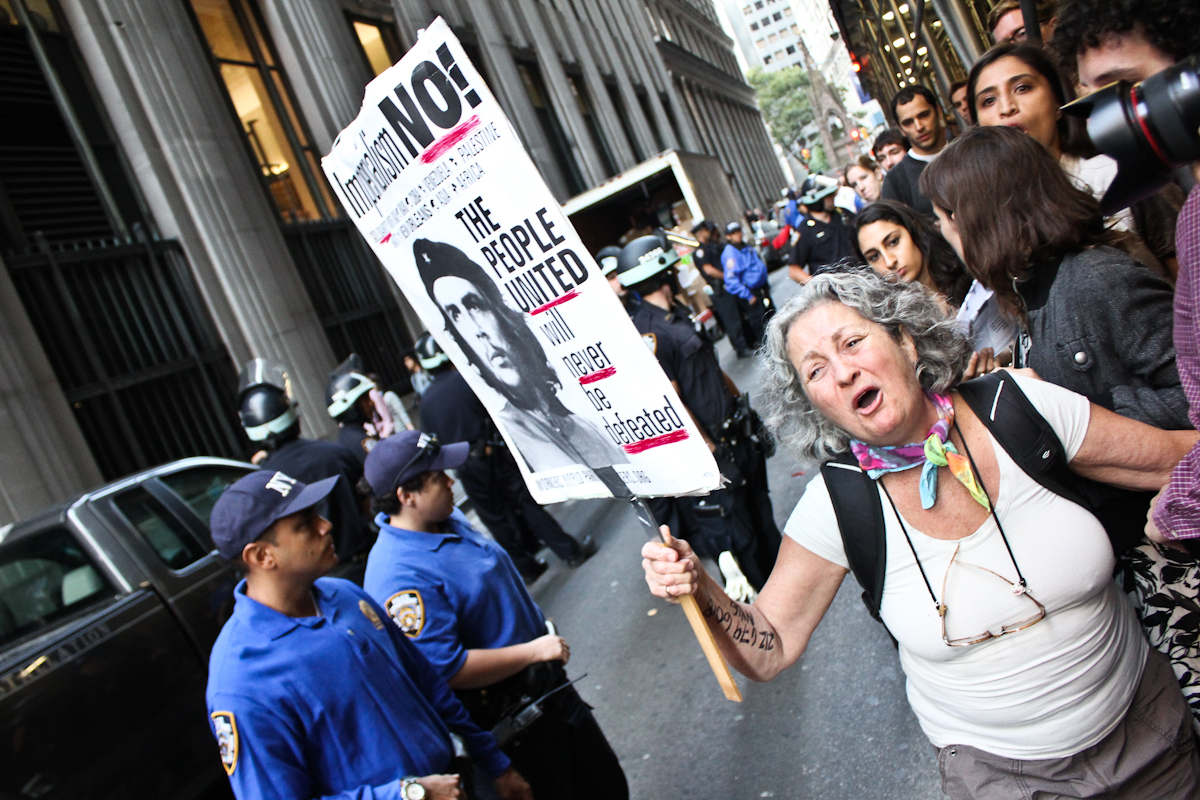 The group's mantra has traditionally been directed against the so-called privileged 1 percent of society -- such as banks, the mortgage industry, insurance providers and others.
The 99 percent is a reference to the broader public, which the group said had been undermined by those institutions.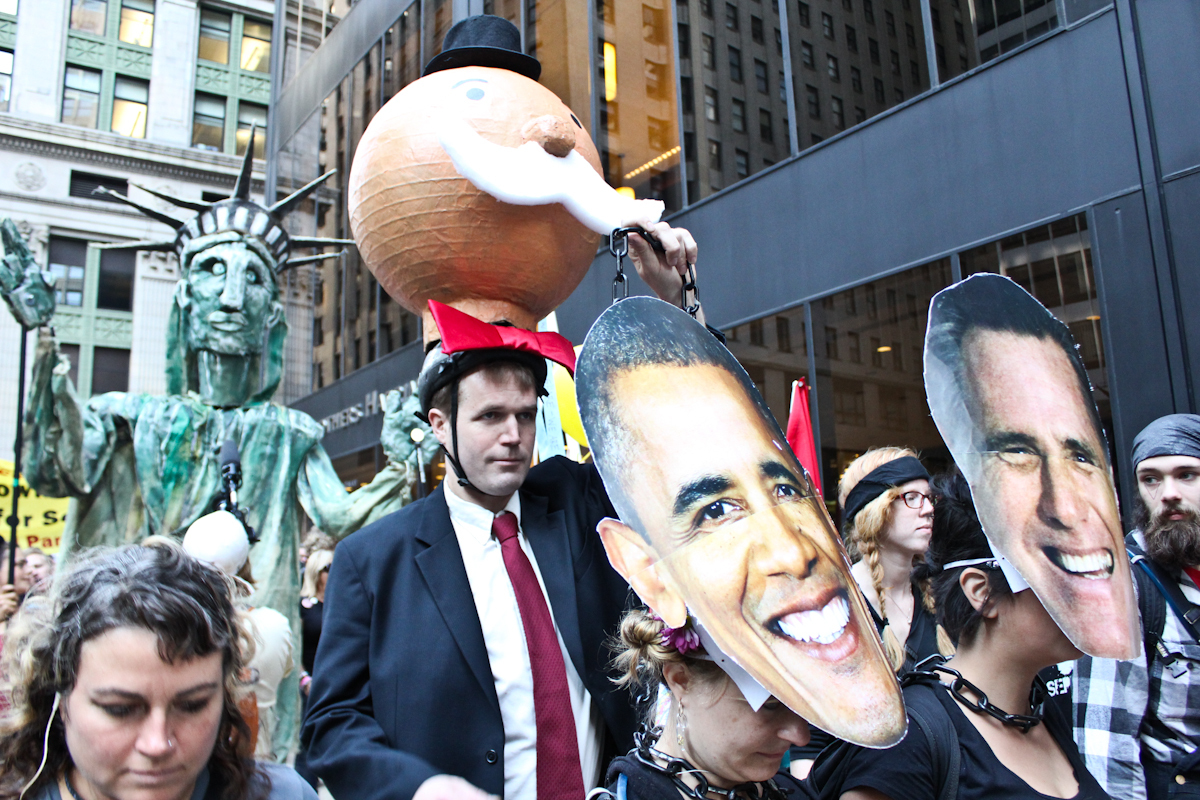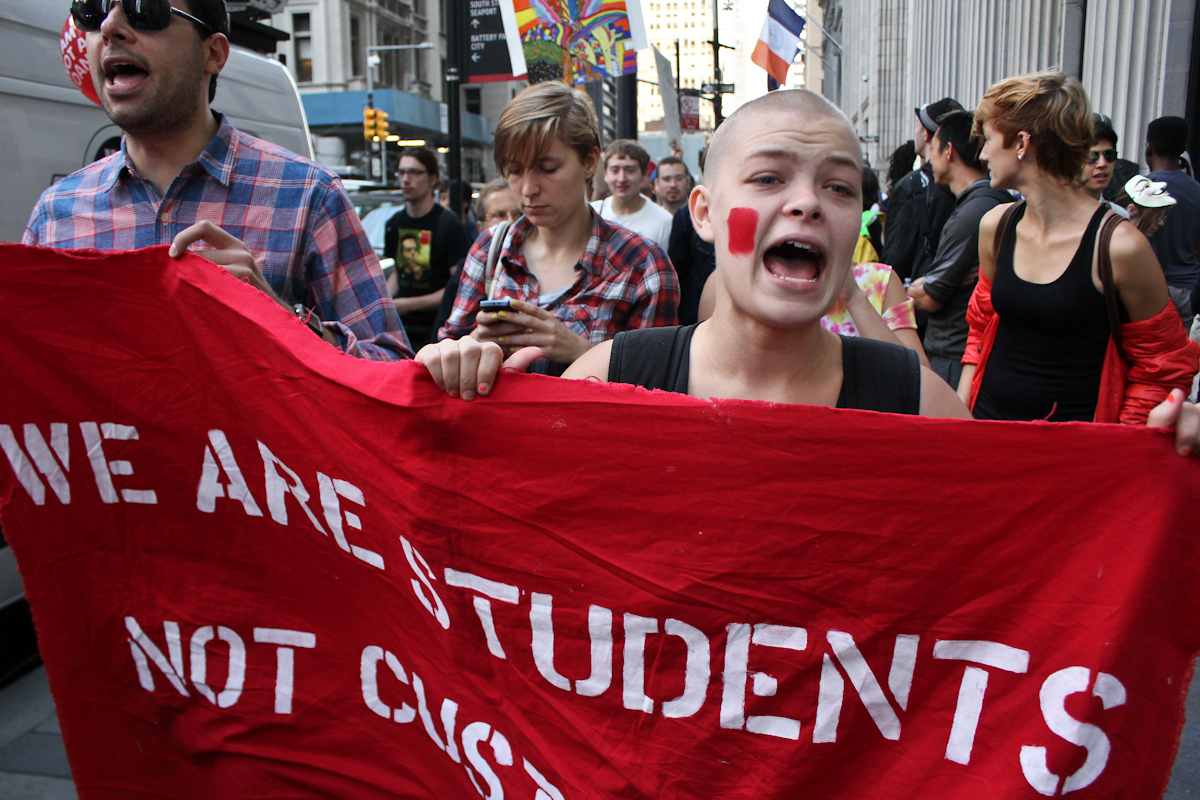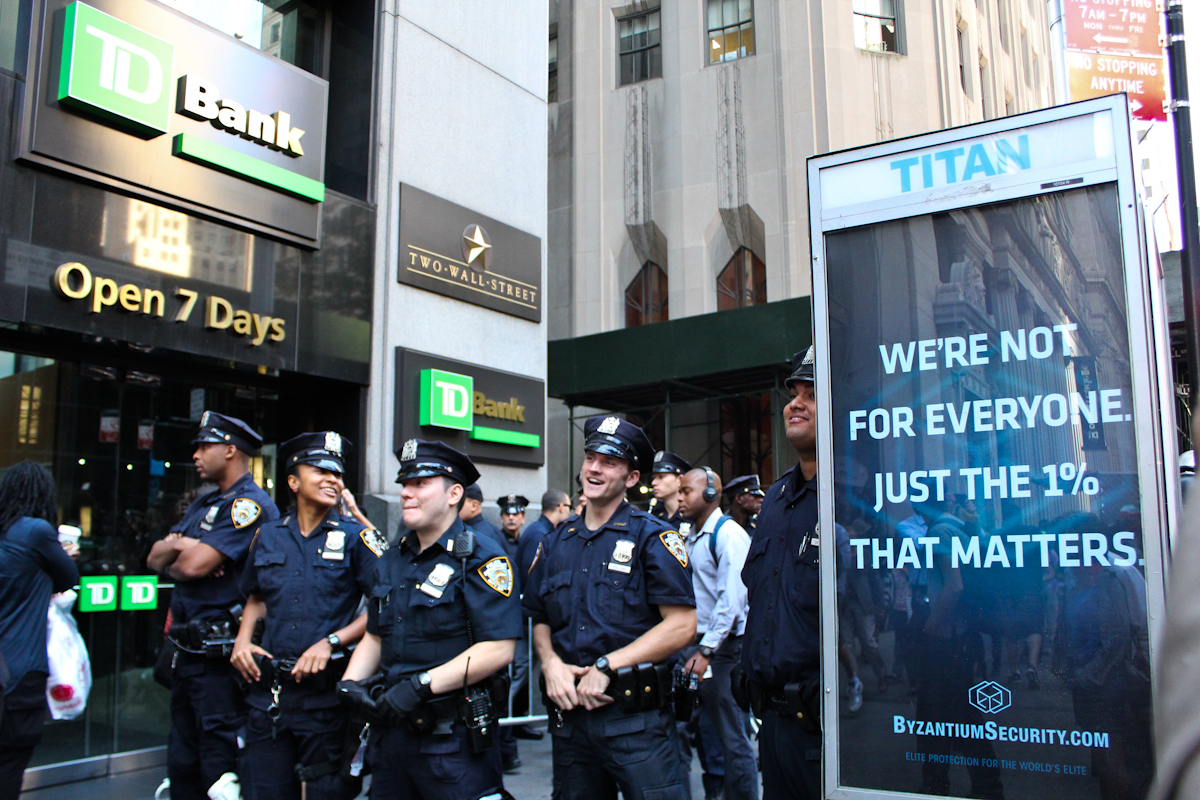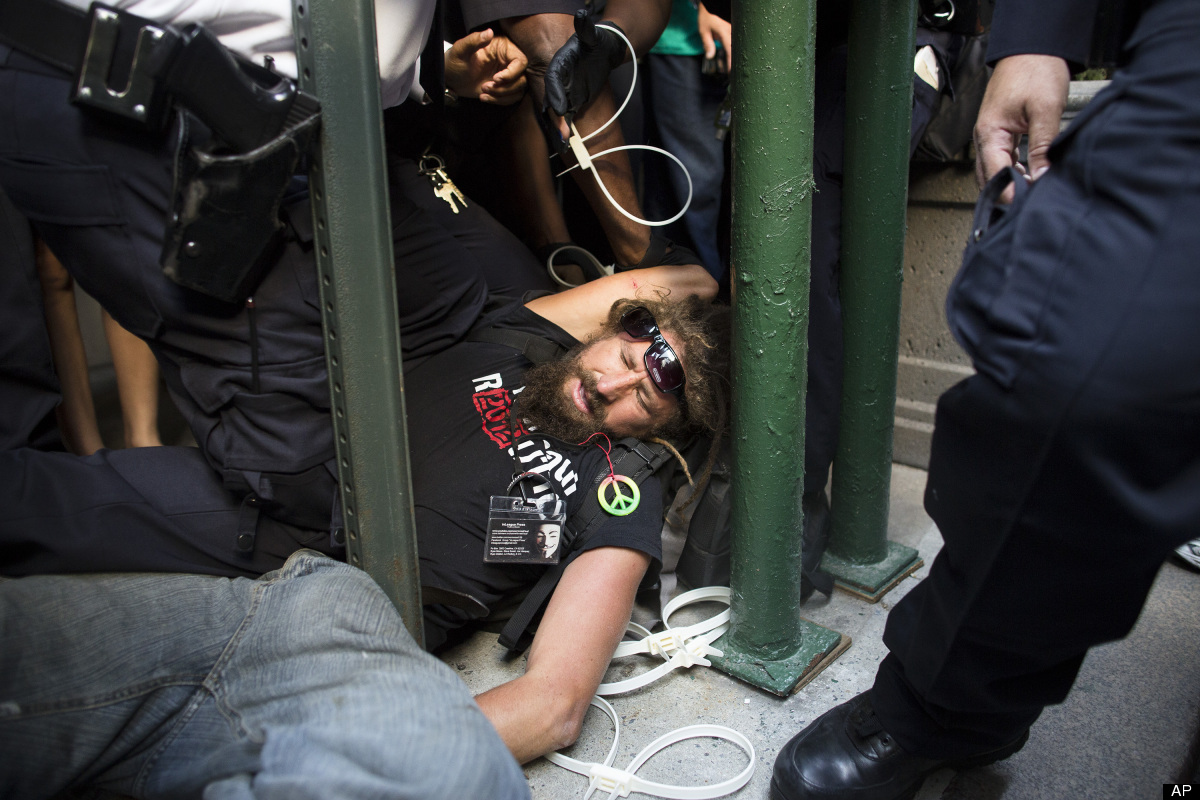 Photos above: Armando Gallardo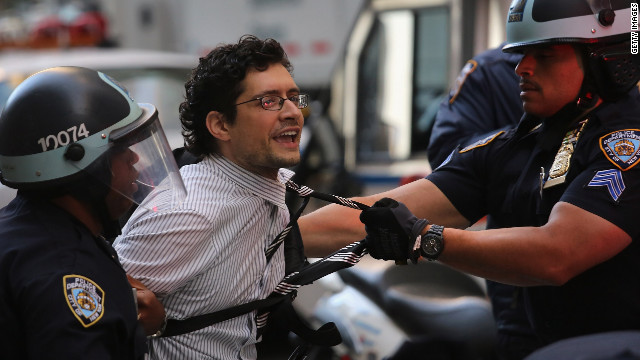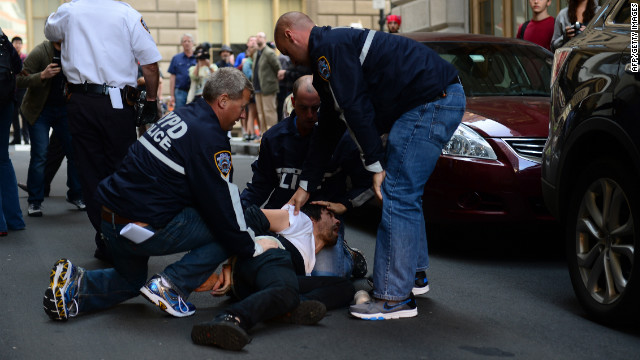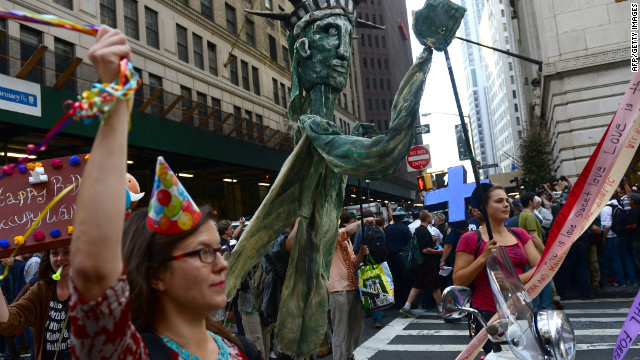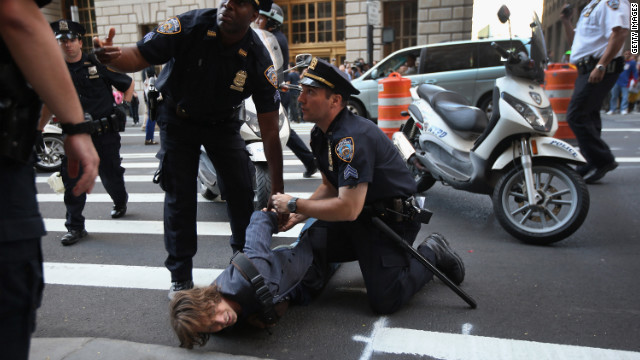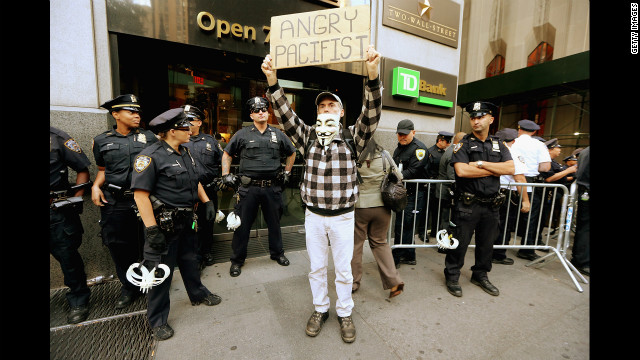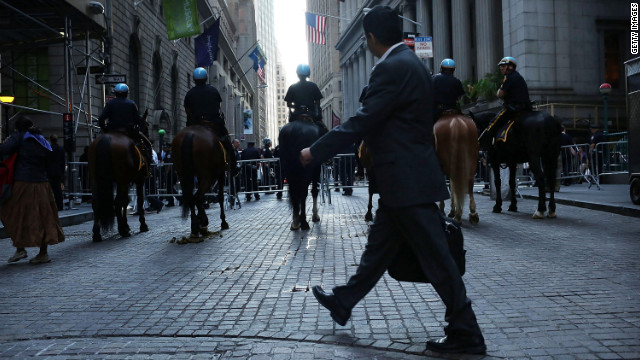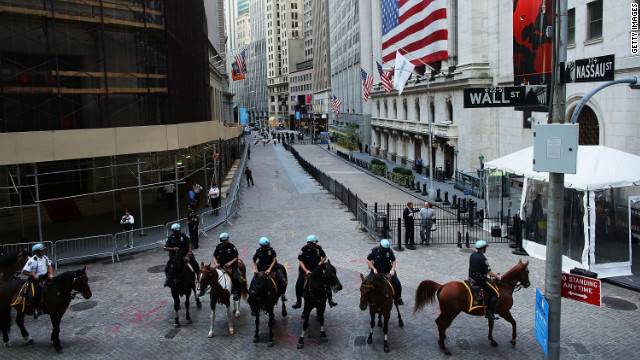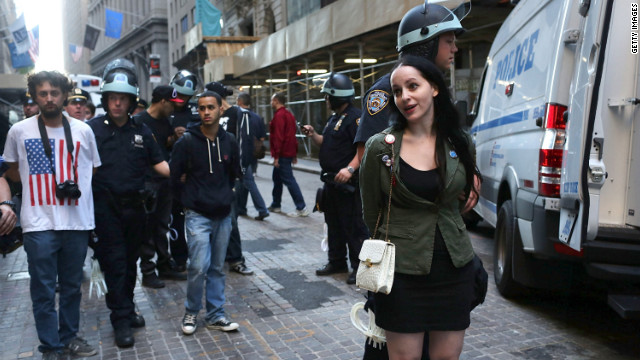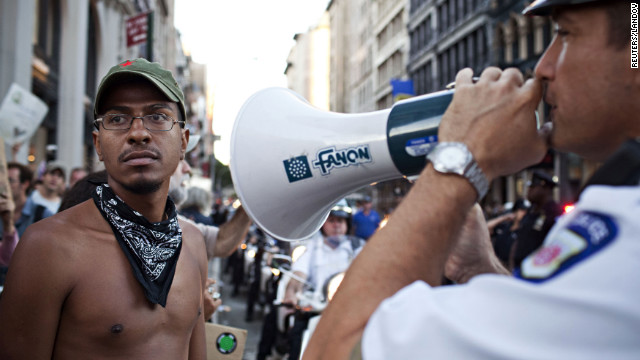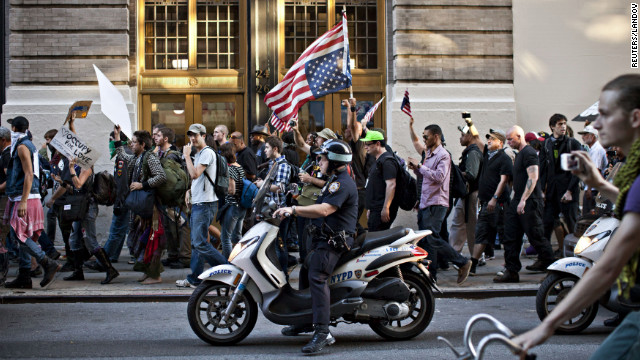 Above series of photos CNN
Financial District in chaos on 'Occupy Wall Street' anniversary; NYPD arrests more than 150 people on disorderly conduct charges
NYPD makes arrests in Manhattan's Financial District as OWS celebrates 'S17' by trying to shut down the New York Stock Exchange. Wall Street workers forced to show ID as chanting protesters swarm the area.
BY CHRISTINA BOYLE , VERA CHINESE , ANTHONY BARTKEWICZ AND CORKY SIEMASZKO
NEW YORK DAILY NEWS
, SEPTEMBER 17, 2012, 8:27 AM
MARCUS SANTOS FOR NEW YORK DAILY NEWS
A year after protesters first tried to Occupy Wall Street, the movement's supporters returned to the Financial District in the hundreds Monday morning.
So much for the revolution.
More than 150 self-professed members of the 99 percent were arrested Monday as the Occupy Wall Street movement marked its one-year anniversary by trying to bottle-up the fat cats in the Financial District.
In the end, it was the demonstrators who found themselves penned in and pursued all day long by police, with the arrests coming for disorderly conduct charges.
Instead of shutting down the New York Stock Exchange and crippling capitalism, they found themselves being marched around Lower Manhattan by police officers.
Using Twitter and text messages, OWS activists tried several times to regroup, but they could never get close enough to give the bankers a real earful.
"We've been chased around by cops all day," said frustrated Theresa Earl, 37.
There were no reports of serious violence, but an NYPD spokesman justified the large police presence, the checkpoints and the arrests as a necessary preventative measure.
JOE MARINO FOR NEW YORK DAILY NEWS
"These are people who were saying they intended to prevent people from going to work on Wall St. and wanted to prevent the Stock Exchange from opening," said NYPD spokesman Paul Browne.
The protesters failed to do that in their wide-ranging lower Manhattan invasion. But they did manage to make it a miserable Monday for some big shots and many financial services workers, who had to present identification and walk through a maze of police barricades to get to their jobs.
"I hate mob rule. We're a republic, not a democracy," said one perturbed plutocrat who declined to give his name. "Everybody has a right to free speech, but they just want free stuff. Free health care and education."
REGGIE LEWIS/NEW YORK DAILY NEWS
Protesters are taken into police custody in the lobby of 4 New York Plaza on Monday, Sept. 17, 2012, during events marking the one-year anniversary of the 'Occupy Wall Street' movement. The building houses JP Morgan and the New York Daily News.
Adding to their angst, after four straight days of surging gains, the Stock Market closed down 40.27 points to 13,553.10.
The arrested protesters included Episcopal Bishop George Packard, a decorated Vietnam vet who served as a military chaplain during the Iraq War — and who emerged exhausted but unbowed after nine hours in the police pokey.
"I think it was amazing," he said of the OWS demonstrations. "It was gloriously delivered in fits and starts in the Occupy fashion. You can never deny the verve and the force of this movement."
ANDREW BURTON/REUTERS
Occupy Wall Street protesters hold a demonstration inside the lobby of a JP Morgan building in New York's Financial District on the one-year anniversary of the movement in New York September 17, 2012.
OWS had planned to flood Wall Street with bodies and shut everything down by sitting down to protest a system that enriches the rich — and soaks the poor and middle class.
But when they tried to reach the Stock Exchange on Broad St. early Monday, marchers' path was blocked by mounted police — and a large, fragrant pile of fresh horse manure."
"Oh, no you don't," a cop said when a demonstrator tried to slip through at Wall St. and Broadway, one short block from the seat of American capitalism.
MARCUS SANTOS/FOR THE NEW YORK DAILY NEWS
A Wall Street worker hands over her ID card Monday morning before going to work.
Zuccotti Park, which the OWS crowd had occupied for months last year, was also fenced off for much of the day before marchers migrated there later in the afternoon.
Amused tourists snapped pictures of grinning protesters, some decked out in black Grim Reaper outfits and carrying cardboard tombstones that read, "R.I.P Wall Street."
At Trinity Church, another nexus of the OWS movement, demonstrators created a drum circle. Another group barged into a Water St. building housing a Chase Bank office — and quickly got the boot.
Later, in Battery Park, hundreds more protesters camped out on the grass and held singalongs.
With Rocco Parascandola, Shane Dixon Kavanaugh and Frank Miller
csiemaszko@nydailynews.com
MARCUS SANTOS FOR NEW YORK DAILY NEWS
Protesters gathered Monday near the intersection of Broadway and Wall St.
JOHN MINCHILLO/AP
Occupy Wall Street protestor Chris Philips screams as he is arrested near Zuccotti Park.
MARCUS SANTOS FOR NEW YORK DAILY NEWS
Bishop George E. Packard is arrested. Cops threatened to arrest anyone who stepped off the sidewalk and busted dozens of people.
ANDREW BURTON/REUTERS
Occupy Wall Street protesters are arrested after holding a demonstration inside the lobby of a JP Morgan building in New York's Financial District.
Fair Use Notice
This website re-published copyrighted material the use of which has not always been specifically authorized by the copyright owner. We are making such material available in our efforts to advance understanding of environmental, political, human rights, economic, democracy, scientific, and social justice issues, etc. We believe this constitutes a 'fair use' of any such copyrighted material as provided for in section 107 of the US Copyright Law. In accordance with Title 17 U.S.C. Section 107, the material on this site is distributed without profit to those who have expressed a prior interest in receiving the included information for research and educational purposes. For more information go to: http://www.law.cornell.edu/uscode/17/107.shtml. If you wish to use copyrighted material from this message for purposes of your own that go beyond 'fair use', you must obtain permission from the copyright owner.