Lawsuit By Gas Company Against No Dash for Gas Causes Public Backlash
---
MAJOR PUBLIC BACKLASH BEGINS AGAINST EDF'S £5M ANTI-PROTEST LAWSUIT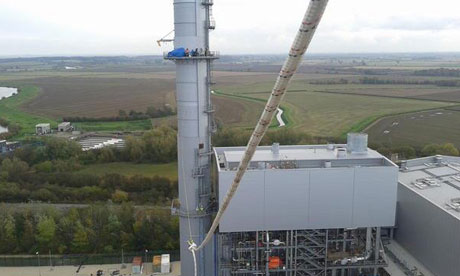 No Dash for Gas activists occupy the West Burton Power Station in November 2012. Photograph: No Dash for Gas
No Dash for Gas
February 25, 2013
Petition from activist's parents reaches 10,000 signatures in 48 hours

EDF Energy's Facebook and Twitter accounts swamped with messages in support of protesters, while EDF customers pledge to switch suppliers

Major campaign groups including Greenpeace, Friends of the Earth and UK Uncut voice their support for "No Dash For Gas", and Green Party passes emergency motion

Supporters pledge to "shut down" EDF's flagship Energy Conference on May 1st 2013
Members of the UK public have been expressing their concern in large numbers over an attempted
multi-million pound legal claim by EDF Energy
, announced this week.

The power company has launched a claim for £5 million in damages against a group of environmental activists called "No Dash For Gas". The campaigners had occupied and shut down EDF's West Burton gas-fired power station for a week in October and November 2012. They were protesting at the Government's plans for a wave of new gas-fired power stations, and against the role of big energy companies like EDF in lobbying for such an expansion.

Should the claim succeed, several of the campaigners face losing their homes, and all could face bankruptcy or be forced to pay a percentage of their salaries to EDF for decades to come. The amount of the claim represents just 0.3% of EDF's annual UK profits,
which rose by 7.5% this year to £1.7 billion
.

In response, over 12,000 people have now signed a petition for EDF to drop the claim at
www.change.org
. It reached
10,000 signatures within 48 hours of its launch
. The petition, written by the parents of one of the activists, says:

"England celebrates its right to peaceful protest. We should be applauding and rewarding the group for their actions rather than allowing a multi-national organisation to put them in debt, possibly for the rest of their lives for a sum, which to EDF is a mere drop in the ocean, but well over a lifetime's income for them."

Many members of the public have also commented on the petition, explaining why they signed it. A selection of these comments can be read below.

At the same time,
EDF Energy's Facebook page
and Twitter account have been swamped by hundreds of comments criticising the company's legal action, including many messages from EDF customers pledging to switch to a new supplier in disgust. Supporters of No Dash For Gas have made and shared spoof images of EDF's logo, and are claiming that
the company's orange mascot "Zingy" is in fact unhappy with the company's civil claim and is being "held hostage" by EDF
. When a member of No Dash For Gas was interviewed on
Radio 2's Jeremy Vine show
on Friday, the subsequent public phone-in was almost unanimously in favour of the protesters.
In a letter to the Guardian
on Thursday, representatives of thirteen campaigning organisations including Greenpeace and Friends of the Earth called EDF's actions "a new low in corporate attempts to stifle democratic dissent", and called for the claim to be dropped. Yesterday, the Green Party's Spring Conference passed an emergency motion in support of the protesters and condemning EDF.

In a sign that EDF's attempt to deter protest may have backfired completely, some supporters are now planning to "shut down" EDF Energy's flagship "Let's Talk Power" conference in central London on May 1st 2013, in protest at the £5 million legal action. The Facebook page for this protest, called
"Let's Talk People Power"
, already has over 200 people signed up to attend.

Hannah Davey, one of the 21 activists being sued by EDF, said: "EDF were hoping to stop people from standing up against their profiteering price hikes, shady government lobbying and climate-trashing power plants. However, their civil claim seems to have had exactly the opposite effect, by inspiring thousands of people to speak up and organise in favour of climate action. EDF's PR department must be tearing their hair out."

The original No Dash For Gas occupation aimed to challenge the Government's plan to build up to 40 new gas-fired power stations, which would see gas accounting for over 50% of the UK's power generation over the next three decades. The Government's own Committee on Climate Change have said that
a new "dash for gas" would make it impossible for the Government to meet its legally-binding carbon reduction targets
, and thus would push us ever closer to the brink of unstoppable climate change.

The Committee also point out that
a greater reliance on gas would increase household bills by up to six times more than a shift to renewable energy
. These comments were echoed this week by the Chief Executive of Ofgem Alistair Buchanan, who warned that
an increased reliance on gas will lead to higher prices in the near future
. Campaigners blame the
lobbying power of big energy companies
like EDF for the Government's current pro-gas position.
Fair Use Notice
This website re-published copyrighted material the use of which has not always been specifically authorized by the copyright owner. We are making such material available in our efforts to advance understanding of environmental, political, human rights, economic, democracy, scientific, and social justice issues, etc. We believe this constitutes a 'fair use' of any such copyrighted material as provided for in section 107 of the US Copyright Law. In accordance with Title 17 U.S.C. Section 107, the material on this site is distributed without profit to those who have expressed a prior interest in receiving the included information for research and educational purposes. For more information go to: http://www.law.cornell.edu/uscode/17/107.shtml. If you wish to use copyrighted material from this message for purposes of your own that go beyond 'fair use', you must obtain permission from the copyright owner.