You are hereBlogs / Kevin Zeese's blog / Diane Wilson on 10th Day of Hunger Strike Arrested Protesting Guantanamo at White House
Diane Wilson on 10th Day of Hunger Strike Arrested Protesting Guantanamo at White House
---
Diane Wilson protesting at White House, with her neck attached to White House fence with bicycle lock.
More: Why I Am on a Hunger Strike to Shut Down Guantanamo Bay Prison
'A Cancer on America': Panel Urges Obama to End Indefinite Detention at Gitmo
Following congressional briefing, activist chains herself to White House fence to "force President to take action" on Guantanamo
This was the clear message sent by a panel of experts Friday at a congressional briefing on Guantánamo titled, "From Crisis to Solution."
"Guantanamo is a cancer on America's claim to moral leadership," intoned one panelist, Brigadier General David R. Irvine.
The briefing was held to urge Congress and the President to follow through on their promise and close the facility, where more than 100 detainees are currently engaging in a hunger strike to protest their treatment. Of those on strike, at least 23 are being forcibly fed, which many believe is a form of torture.
"Congress has granted President Obama the tools and power he needs to end indefinite detention and close Guantánamo," said panelist and Center for Constitutional Rights Senior Staff Attorney Pardiss Kebriaei. "He cannot place the blame on Congress for the fact that 166 men still remain at Guantánamo. He has the power to resolve this crisis, and he must use it to close Guantánamo."
Kebriaei emphasized that Obama could use the "certification and waiver process," which Congress created, to initiate the transfer of the captives, "starting with the 86 men who have been cleared for release by the Obama administration itself."
In addition to Irvine and Kebriaei, the others panelists included ordained Presbyterian minister Dr. George Hunsinger and Colonel Lawrence B. Wilkerson, who served as Chief of Staff to Secretary of State Colin Powell.
"Some of our clients have said they would rather die than live like this – in perpetual detention after 11 years, in now inhuman conditions," Kebriaei added. "But their hunger strikes are not acts of suicide. They are acts of last resort to be heard, and for release."
Present and reporting from within the hearing was human rights activist group CODEPINK, which was among a number of organizations who staged a demonstration outside of the White House Friday.
During the action, CODEPINK co-founder Diane Wilson—who is on day 10 of a water-only fast in solidarity with the prisoners—chained herself to the White House fence for two hours before being taken away by police.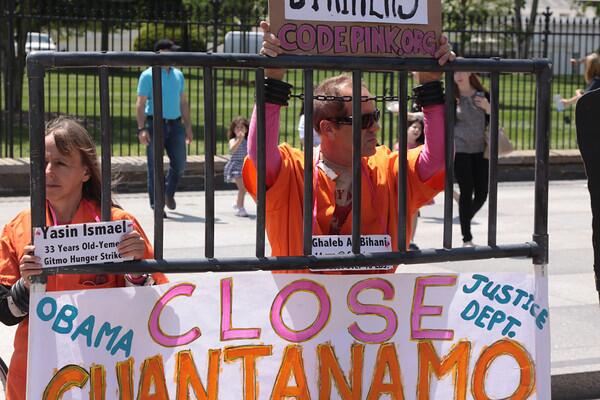 "I am disgusted with President Obama for keeping the prisoners in Guantanamo in indefinite detention, refusing to release those who have been cleared, and brutally force-feeding them," Wilson said in a statement ahead of the protest. "We Americans have to do more to force the president to take action."
Other protesters wore Guantanamo-style orange jumpsuits while an "armed US soldier" reenacted "the degrading and inhumane treatment of the prisoners by US military guards."
Earlier this week, Yemeni human rights minister, Hooria Mashhour, came to Washington hoping to discuss the release of the 84 Yemeni Guantanamo detainees, particularly the 26 individuals who the Obama Administration have already cleared for transfer. However, according to a McClatchy report, Mashhour left "disappointed" unable to have met with any "senior-level" officials.
CODE PINK twitter: An hour and a half later, Diane Wilson is still chained to the White House demanding justice for Gitmo prisoners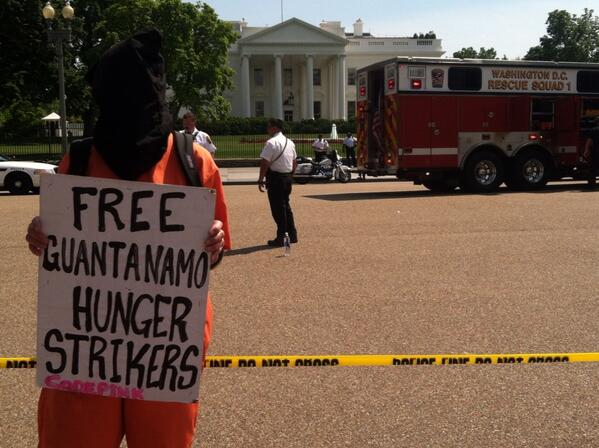 Ray McGovern, former CIA official, speaks at White House and Diane Wilson is arrested.
Fair Use Notice
This website re-published copyrighted material the use of which has not always been specifically authorized by the copyright owner. We are making such material available in our efforts to advance understanding of environmental, political, human rights, economic, democracy, scientific, and social justice issues, etc. We believe this constitutes a 'fair use' of any such copyrighted material as provided for in section 107 of the US Copyright Law. In accordance with Title 17 U.S.C. Section 107, the material on this site is distributed without profit to those who have expressed a prior interest in receiving the included information for research and educational purposes. For more information go to: http://www.law.cornell.edu/uscode/17/107.shtml. If you wish to use copyrighted material from this message for purposes of your own that go beyond 'fair use', you must obtain permission from the copyright owner.