California Orders Wal-Mart Warehouse to Pay $1.1 Million in Stolen Wages
---
The wage theft ruling is a significant victory for Warehouse Workers United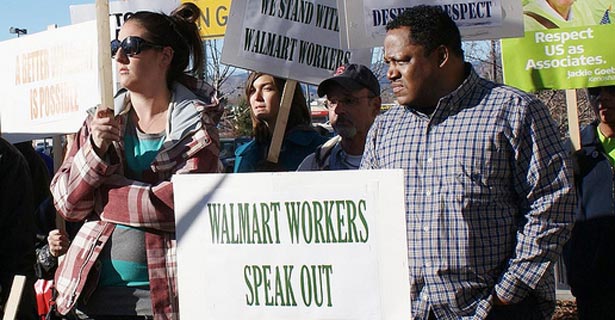 BY CAMILLE BEREDJICK
IN THESE TIMES, JANUARY 29, 2013


The state of California has
ordered
a Southern California merchandise-processing warehouse to pay 865 workers more than $1 million in stolen wages.
Workers at Quetico, LLC, a warehouse complex in Chino, Calif., are responsible for labeling, tagging and packing apparel and shoes for major retailers including Wal-Mart, Levi's, Maidenform and Puma. On Monday, the California Division of Labor Standards Enforcement cited the complex for more than $1.1 million in back wages and unpaid overtime, plus an additional $200,000 in penalties.
Workers last year informed the Warehouse Worker Resource Center that they were being denied pay for time worked, made to work through lunch and threatened with termination if they complained. The Quetico warehouse has been cited in the last year by multiple state agencies for violations, including unsafe working conditions and retaliation against workers who requested to be paid for missing wages.
The wage theft ruling is a significant victory for Warehouse Workers United, which has led a movement to hold Wal-Mart responsible for warehouse working conditions under the company's subcontractors. Dozens, if not hundreds of workers from other Wal-Mart warehouse locations—including more facilities in California, stores in Seattle and Dallas, and another outside of Chicago—went on strike late last year to protest poor working conditions and retaliation against workers who complained about safety hazards.
In a press release, WWU says:
"Many problems that we commonly see in Southern California warehouses are concentrated at this warehouse," said Guadalupe Palma, a director with Warehouse Workers United. "We are grateful that the state has taken such dramatic action."

Warehouse workers at a nearby facility that moves merchandise exclusively for Walmart and is operated by Schneider Logistics filed a federal lawsuit in October 2011 alleging massive wage and hour violations at a Walmart-contracted warehouse in Southern California. In January Judge Christina Snyder ruled that Walmart can be added as a defendant in the lawsuit to recover millions of dollars in stolen wages.
Fair Use Notice
This website re-published copyrighted material the use of which has not always been specifically authorized by the copyright owner. We are making such material available in our efforts to advance understanding of environmental, political, human rights, economic, democracy, scientific, and social justice issues, etc. We believe this constitutes a 'fair use' of any such copyrighted material as provided for in section 107 of the US Copyright Law. In accordance with Title 17 U.S.C. Section 107, the material on this site is distributed without profit to those who have expressed a prior interest in receiving the included information for research and educational purposes. For more information go to: http://www.law.cornell.edu/uscode/17/107.shtml. If you wish to use copyrighted material from this message for purposes of your own that go beyond 'fair use', you must obtain permission from the copyright owner.