Building Critical Mass for a Progressive Future
---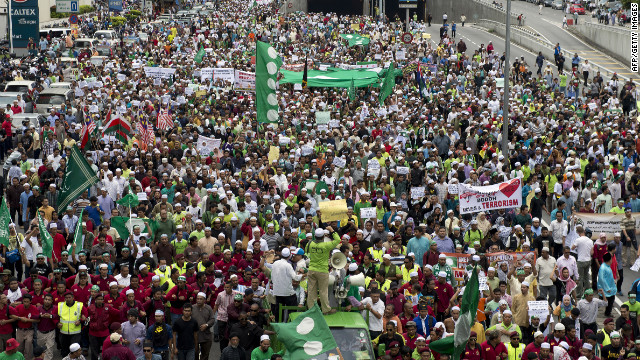 A number of 2012 end-of-year articles take a look back, and wonder what the future might bring from an environmental, economic, and progressive political perspective. Perhaps not too surprisingly, it's fairly easy to connect the dots among them.
James Howard Kunstler, in "
Forecast 2013: Contraction, Contagion, and Contradiction
," makes a point, that while very true, is incomplete. It's not just cheap petroleum. Western man began thinking he was entitled to "limitless goodies forever" thanks to Enlightenment science, the enclosure of the commons, and the forerunner to capitalism--mercantilism--in the 1500s with the fledgling global empires of European nation-states. 200 years of cheap fossil fuels has merely put Industrialism on steroids and proven beyond a reasonable doubt that capitalism is a more efficient means of economic cannibalism than State Socialism.
But, do we really need to keep enriching the parasite class? The world needs "capital, commodity, and equity markets" honest or otherwise like it needs a(nother) hole in the head--courtesy of a well-drilling bit. Capital, or more accurately financial instruments such as equity markets, are not necessary for innovation, progress, or prosperity and doing without "markets" as we know and love them today is not a path straight to the dark ages. This doesn't mean some varying number of people won't die of cold and starvation from market collapse, though, depending on how rational the choices we make as a society are in the very near future. Like tomorrow. Because people are already dying from those reasons today. It can be easily argued that the mere existence of today's economic system--designed to privatize the commons and transfer wealth from the bottom to the top--is responsible for the deaths of tens of thousands of people daily from starvation and disease that could be easily alleviated were it not for the profit motive.What we must closely examine are the actual services markets and their financial instruments deliver in the real world that fulfill a social good.
More on this in a bit, but I do agree with Kunstler that Americans will probably finally freak when Cheerios hit $9/box.
Rob Kall in OpEd News, "
The Left is Moving Right. What to do?
," among other good ideas calls for a progressive/left institute that would research and advocate policy. I would suggest doing so along the same lines as ALEC. The framework is in place within my non-profit, Coalitions of Mutual Endeavor, to do exactly this. I know voices on the left keep calling for them to be shut down, but I still don't see ALEC as doing anything wrong (absent an ethical framework, of course) other than pushing a viewpoint. In a representative republic, isn't this how it's supposed to work? One major advantage the left would have is the ability to actually use an ethical framework, and it's never made sense to me that they refuse to use it. Well, except for the disdain capitalism has for ethics... and science for that matter. The love affair with the Industrial Growth Society is probably the main area in which the Left has some serious soul-searching to do.
Kall points out that the requirements for turning things around--crafting effective policies and strategies to reach the Left's goals--include admitting that Democrats are the slightly less right wing of the Corporate War Party and that we must "define a vision of a progressive future." I'll come back to that point here in a minute, too.
I'm all in favor of connecting the dots, as that's the title of my forthcoming book that details a framework and methodology to build the critical mass necessary for systemic change integrated with a living world. So, a couple of questions spring immediately to my mind. Do we continue to work in isolation because we are wedded to the American myth of rugged individualism? Are we afraid that if we address the bigger picture that we'll violate our own comfort zones, or diminish our own possibilities? I mean, if we come out against the growth underneath the single issues, that means we won't get the McMansion in the hills, Porsche, and big-screen TV either.
Cummins asks how have the millions of people who are actively engaged in issues ranging from environmental to justice and equity to democracy and community been stymied in their efforts to create critical mass? And why are we not just united but up in arms over the elite minority who are in thrall to a paradigm that is trashing the planet and destroying our future? Cummins refers to this paradigm as the Corporatocracy, but I believe it is more accurately called the Kleptocracy--in which corporatism is but one aspect.
Activists who care about something, anything really, other than profit find themselves in the distinct minority as the Industrial Growth Society comes roaring up to some environmental and climate tipping points. Throw economic meltdown into the picture, and we have some serious strategizing to do in addition to the soul-searching I mentioned above.
A number of things are necessary in a serious agenda for progressive change when the paradigm we're up against will vigorously oppose every agenda item we come up with. Cummins points out two of these requirements, which I cover at length in my book. The first is a "Global Declaration of Interdependence." For the second, Cummins says we must "overthrow the Corporatocracy and dismantle the suicide economy." But again to be accurate and ensure we're not just slapping band-aids on symptoms, we must stop and replace not just the Kleptocracy but the Industrial Growth Society which depends on economic cannibalism.
For the first, we already have an international people's declaration of interdependence. It's known as the Earth Charter. Rather than re-inventing the wheel, yet again, let's openly embrace and adopt it. An alternative to the second is a bit more complex, but well within our abilities.
The elite Powers That Be will do everything in their power to retain that power. So, part of our activism must revolve around reminding the military, police and our elected leaders that their core mission is to protect democracy, not elite special interests, and to defend democracy from threats both foreign and domestic. This framing may need to become foremost in everything else we do. This goes hand in hand with the fact that the core mandate of a democratic government is to protect the commons that its citizens and economy depend on to be healthy and vibrant. These are bipartisan issues that if argued against will immediately expose the true agenda of the speaker. As Jim Hightower says, it's not right versus left, it's top versus bottom.
Progressives tend to be rather good at stating what they're against. But getting the Corporatists out of power is not enough. The paradigm the Kleptocracy depends on must be de-legitimized and replaced by a paradigm that is just as systemic but that works for life. This means it stands an actual chance of improving quality of life for all life, not just a self-selected few.
The major requirement for progressive change, which Cummins and many others call for, is to build multi-issue coalitions that can move us beyond single issue organizing. The Earth Charter can serve another role here, as it gives us a set of internationally vetted values these coalitions can hold in common and build from. At their core, the values articulated by the Earth Charter are all based on sustainability.
Another requirement for successful multi-issue coalitions is a common goal. I propose that a sustainable future is the common progressive goal. An ecologically sound and legally defensible definition of sustainability provides a foundation for all of our individual work in ecological integrity, social justice, economic equity, and participatory democracy. Justice is not possible without sustainability, and peace will not be possible without justice. I believe this is as bottom line as a bottom line can get. There will be neither justice nor an economy on a dead planet.
It must also be recognized that one of the defining features of the Kleptocracy are hierarchies of domination. Thus, in order to build critical mass toward a true alternative, coalitions must become skilled at non-hierarchical organizing, communicating, sharing leadership, and making decisions. The tools to do all of this are available, as is a life-affirming framework they all fit within. This basis is also necessary for progressive think tanks to contribute to policy formulation.
Once we settle on our common goal and the set of shared values that can help us realize it, we must articulate and start building the alternative. The details of this are more than can be covered in a single article. In fact, my editor is helping me whittle down the 400 plus pages I have laid it out in currently to a more manageable and accessible size. But for now it's sufficient to realize that the basics of this alternative consists of reconnecting with nature and relocalizing our communities--both of which can be supported by implementing steady-state economic principles and basing our governance on an Earth jurisprudence.
This provides a vision for a progressive future. It provides a foundation for an economy that works for life. The unanswered question seems to be whether or not progressive leaders and organizations are willing to come together themselves to support a framework that focuses on putting the arsonist out of commission so that we're not constantly battling more single-issue fires and our organizing can focus on more than just trying to get more volunteer firemen.
Fair Use Notice
This website re-published copyrighted material the use of which has not always been specifically authorized by the copyright owner. We are making such material available in our efforts to advance understanding of environmental, political, human rights, economic, democracy, scientific, and social justice issues, etc. We believe this constitutes a 'fair use' of any such copyrighted material as provided for in section 107 of the US Copyright Law. In accordance with Title 17 U.S.C. Section 107, the material on this site is distributed without profit to those who have expressed a prior interest in receiving the included information for research and educational purposes. For more information go to: http://www.law.cornell.edu/uscode/17/107.shtml. If you wish to use copyrighted material from this message for purposes of your own that go beyond 'fair use', you must obtain permission from the copyright owner.