Blogs
---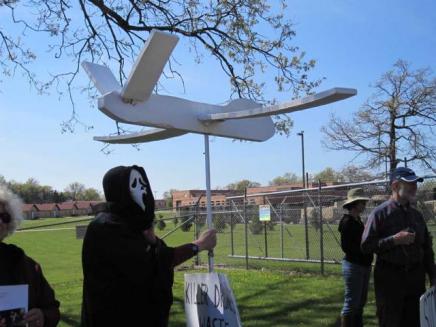 Peaceful Attempt to Deliver War Crimes Indictment to Commander Results in Arrests
By Michael Nagler and Stephanie Van Hook
Originally published in the Metta Center
When a people is faced with a destructive system that has been insidiously putting its tendrils down in many sectors of society, steadily taking over its institutions, it can seem all but impossible to dislodge that evil; but it always seems that a system like that will have some vulnerability, some leverage point that an aroused people can ferret out and be rid of the evil.
On topics from Guantánamo to drone strikes, I couldn't let the president act as if he were some helpless official at the mercy of Congress.
Fair Use Notice
This website re-published copyrighted material the use of which has not always been specifically authorized by the copyright owner. We are making such material available in our efforts to advance understanding of environmental, political, human rights, economic, democracy, scientific, and social justice issues, etc. We believe this constitutes a 'fair use' of any such copyrighted material as provided for in section 107 of the US Copyright Law. In accordance with Title 17 U.S.C. Section 107, the material on this site is distributed without profit to those who have expressed a prior interest in receiving the included information for research and educational purposes. For more information go to: http://www.law.cornell.edu/uscode/17/107.shtml. If you wish to use copyrighted material from this message for purposes of your own that go beyond 'fair use', you must obtain permission from the copyright owner.